Summer Is About To Go Off at These 6 Utah Mountain Resorts
Utah's majestic Wasatch Mountains bring people a different type of joy in the summer months. Here are our favorite summer resorts.
Heading out the door? Read this article on the new Outside+ app available now on iOS devices for members! Download the app.
With the ideal combo of soaring peaks and wending rivers, Utah is a summer outdoor paradise. What's more, its mountain resorts are incredibly accessible, making them the perfect adventure to embark on before autumn comes around. The resorts transform into mountain playgrounds with coasters, zip lines, mountain biking, lift-served hiking and more, and are great family destinations for easy adventures and turnkey vacations. These five resorts offer it all, and a little bit more.
6 Utah Resorts For Summer Activities
Park City Resort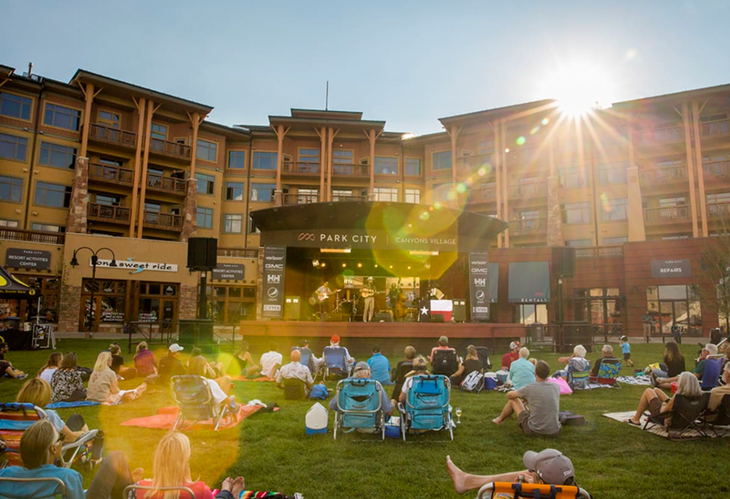 Off-season at the second-largest ski resort in the U.S. is far from slow. Park City Mountain offers entertainment for the whole family, all accessible from both the PCMR and Canyons bases of the immense resort. Bonus: Downtown Park City is arguably even more fun in the milder summer months.
Opens For Summer: June 16, 2023
Hot Ticket: Savor the Summit takes place on June 24 and features a massive table set up on Main Street where 15-plus participating restaurants serve approximately 2,500 hungry diners throughout the event, which also hosts live music.
Park City Summer Checklist
• Board the Red Pine Gondola for scenic views of the Wasatch Mountains and a lift up to hiking and biking trails. Over 20 miles of cross-country mountain biking is open for riders of all levels. The Red Pine Gondola is open beginning June 30 and runs Monday-Saturday from 10 a.m. until 6 p.m.
• Check out getting an Adventure Pass that'll give you access to the outdoor obstacle course, alpine slides and more.
• Settle in for weekly live music at the Canyons base.
• Putt-putt away at the resort's 18-hole mini-golf course.
• Utah's longest mountain coaster is open for those who dare—riders can travel up to 30 mph through loops and chutes on the mountainside.
• Park City's alpine slides are among the largest in the world, with four different 3,000-foot tracks to experience something new each time.
• Higher up, the mountain's zip lines allow for a thrilling birds-eye view of the resort at 110 feet off the ground.
Snowbird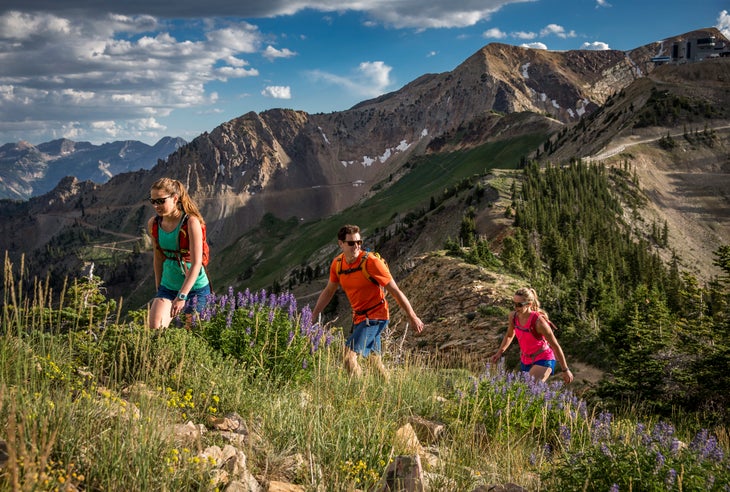 Only a half-hour drive from Salt Lake City, Snowbird has just the summer mountain respite city-dwellers crave. Its Little Cottonwood Canyon valleys come alive with wildflowers and green mountain trails during the summertime, and there are all manner of activities on tap here.
Opens For Summer: June 16, but still TBD as to what will open at that time per a spokesperson from the resort.
Hot Ticket: Snowbird is one of four locations that hosts the Wasatch Wildflower Festival, a celebration of the unique and beautiful summer foliage in Utah's mountains that takes place on July 15. Come for guided hikes at all different levels from the tram as well as the base, plus food, music, and kids crafts.
Snowbird Summer Checklist
• Ride the Aerial Tram, which goes for a 1.6-mile ride to and from the summit. Opening on June 17
• For open-air travel to the peaks, the Peruvian chairlift ascends 2,400 vertical feet for a 16-minute ride, transporting sightseers and hikers to the mountain's trails.
• The resort boasts miles of singletrack mountain biking trails, including its famous 7.5-mile Big Mountain Trail, which takes bikers from the top of the Tram all the way to the base.
• The Snowbird Mountain Coaster features 3,120 feet of twists and turns down the mountainside.
• Or ride the alpine slide for 1,300 downhill feet of fun through tunnels and turns.
• At the base, check out the ropes course, bungee trampoline, climbing wall, and a 50-foot bungee drop.
• Kids can try their hands at gemstone panning, assisted tree climbing, a mini ropes course, inflatable bouncy houses, and slides.
Solitude Mountain Resort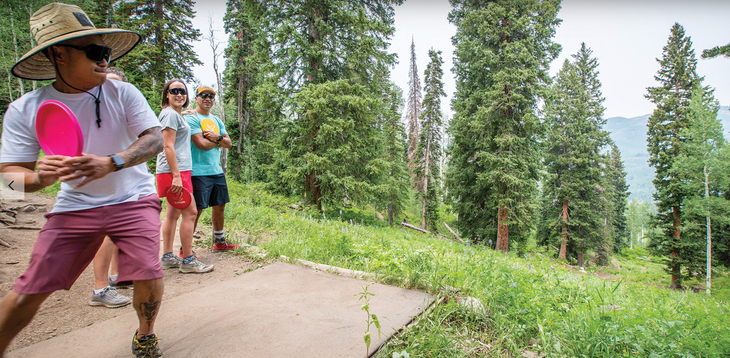 This Big Cottonwood Canyon resorts serves up a different vibe than its LCC neighbors, but the same views, activities, and events. There's single-track mountain biking, disc golf, lift-served hiking, and great lodging deals in the mountainside base village all summer long.
Opens For Summer: June 15
Hot Ticket: If you're the type who enjoys a good suffer fest, sign up for the Starvation Xtreme Triathlon on July 29. The race consists of a 2.4-mile swim, 100-mile bike ride, and 26 miles of trail running across the slopes of Solitude.
Solitude Summer Checklist
• Mountain bike over 20 miles of scenic trails accessible from the bases as well as from the lift. The trails range from gentle cross-country family trails to steep and technical downhill routes.
• There are mountain bike rentals and lessons available.
• Ride the Sunrise lift to high-alpine hiking from the summit to take in Big Cottonwood view laden with summer wildflowers.
• Play disc golf at 9,000 feet on Solitude's 18-hole course with expansive Wasatch views.
• Catch some live music in the village at 5p every Sunday all summer during the Sunday Live Music Series.
• Grab lunch or dinner in the village, including resort favorites such as Honeycomb Grill, Stone Haus Pizzeria & Creamery, and the Thirsty Squirrel.
Sundance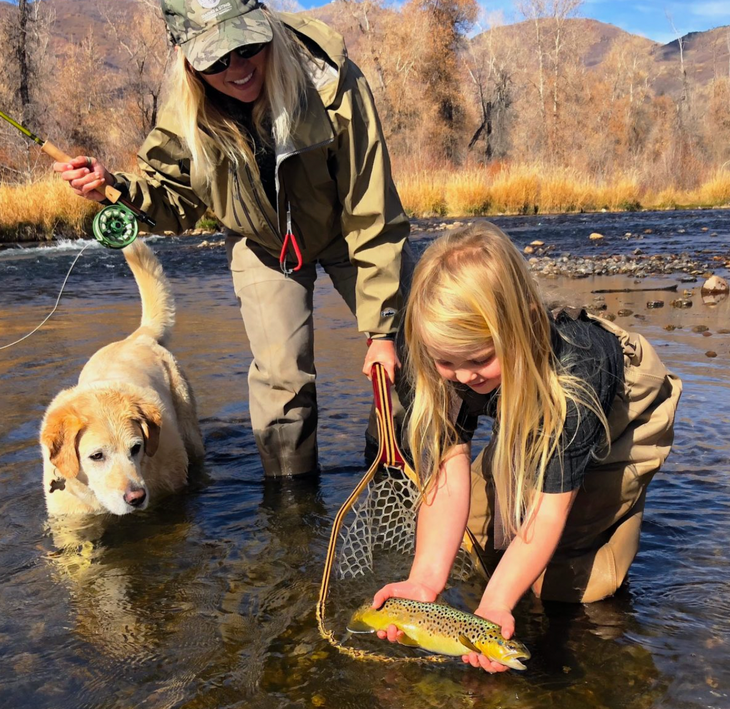 Sundance is a special place. Rustic-chic and intimate, this is not like any ski resort you've been to. Summer visitors to Sundance should expect a unique experience amid stunning landscape with just about everything there is to do at bigger resorts—except the crowds.
Opens for Summer: May 26, 2023
Hot Ticket: Sundance Summer Theatre is an annual tradition at the resort since 1970. This summer's production is Rodgers & Hammerstein's Cinderella, a contemporary adaptation of the Disney classic. It runs from July 20 to August 12, 2o23 on Mondays, Thursdays, Fridays and Saturdays, plus a bonus show on Aug.8.
Sundance Summer Checklist
• Pedal to your heart's content along 25 miles of lift-served singletrack with ample intermediate to advanced terrain
• Expend less energy and ride the lift to the peak, where over 10 miles of alpine trails are accessible to the beginner through expert hiker.
• Fly though the air on a zip tour, which sends adventurers soaring over 2,100 feet across the valley at speeds over 65 mph.
• The Provo River is five minutes from the resort. Fish for plentiful trout or just go wading to cool off. Sundance simplifies the booking process so that guests can plan a guided fly-fishing trip right out of the resort.
• Book a guided horseback ride along Sundance's extensive trail network.
Deer Valley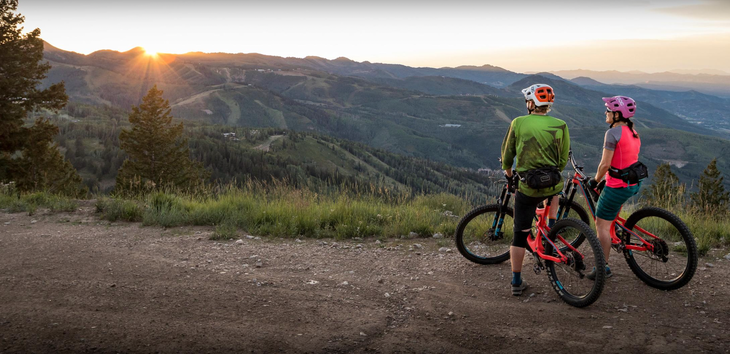 A hub for outdoor concerts, picnics, great dining, mountain biking, and more, Deer Valley's summer vibe is laidback and welcoming. Grab a pre-packed gourmet picnic and settle in for an afternoon of great music or rent a bike and explore the ample trail system.
Opens for Summer: June 23, 2023
Hot Ticket: Listen to live music under the stars with the Utah Symphony's Deer Valley Music Festival and the Deer Valley Concert Series. Both hosts varying artists including The Beach Boys, CAAMP, and Kenny Loggins. The schedule is varied from June 30- Sept. 2.
Deer Valley Summer Checklist
• Ride the lift to the summit and meander along the miles of trails that snake down the grassy slopes.
• Six peaks and 70 miles of trails are available to adventurous mountain bikers of all levels. Many of these lift-serviced trails connect with Park City's extensive single-track mountain biking network, offering over 400 miles of terrain to explore.
• On Tuesdays and Thursdays, riders have the opportunity to ride throughout the twilight hours, as lift-served trails stay open from 4 p.m. to 8 p.m.
• Deer Valley also offers horseback riding, standup paddle boarding, and fly fishing on-site at the resort.
• For the kids, check out the weekly Summer Adventure Camps, packed with outdoor activities and fun educational experiences.
Snowbasin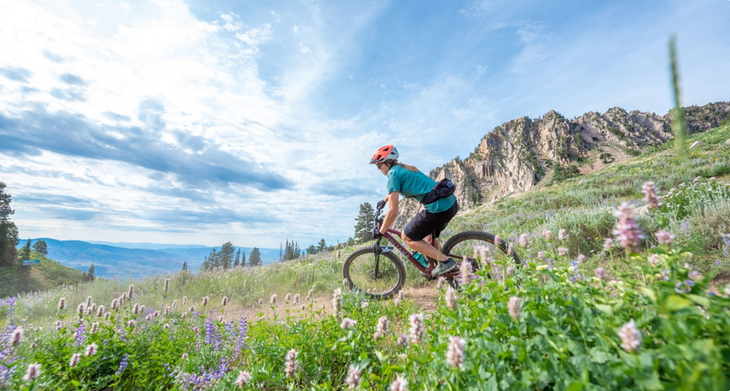 The same high-end amenities and lovely views that attract people in the winter do the same in the summer. Come for the hiking and biking, of course, but also know that Snowbasin has invested significantly in its family-friendly offerings at the base. So bring the littles this summer!
Opens for Summer: June 24, 2023
Snowbasin Summer Checklist
• Over 26 miles of singletrack trails are available to hikers and mountain bikers, connecting to additional Forest Service trails for an extra 25 miles to explore. Mountain bikers have access to all level of trails from the base and by gondola.
• Three hiker-only trails lead through the mountain's aspen and pine groves to its peaks, where stunning valley views await.
• The 18-hole Wildflower Mini Golf course is Snowbasin's newest family-friendly summer activity. Rounds can be purchased for $10 at the Grizzly Center.
• Enjoy weekly events all summer long, including Blues, Brews & BBQ summer concerts and Mountain Top Brunch every Sunday.