Aamodt Completes Grand Slam With First Slalom Win
Advice
Heading out the door? Read this article on the new Outside+ app available now on iOS devices for members! Download the app.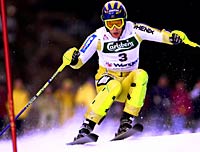 Wengen, Switzerland, Jan. 16, (AP by Erica Bulamn)–Norway's Kjetil Andre Aamodt earned the first World Cup slalom victory of his career Sunday and became the fourth skier to win in all five Alpine disciplines.
Aamodt, who had been denied the elusive slalom win by Italy's Angelo Weiss last week at Chamonix, put together two solid runs on the difficult, foggy Maennlichen course for a combined time of 1 minute, 44.87 seconds.
Others who have won the five-discipline grand slam are Luxembourg's Marc Girardelli, Switzerland's Pirman Zurbriggen and Austria's Guenther Mader, who last accomplished the feat in 1996.
"I'm an all-rounder, so it's always been my goal to win in all five disciplines," said Aamodt, a multi-world and Olympic champion. "I was disappointed last week when I was leading but could not pull off the victory, finishing second.
"But it's difficult to have the lead and defend it," Aamodt added, after collecting his 17th career World Cup win. "I was more relaxed today coming from behind."
Fourth after the opening leg, Aamodt blitzed down the tricky course, recording the third-fastest time of the final run.
With a .50 seconds lead after the first run, Slovenia's Jure Kosir appeared poised to win his first World Cup race in a year. But Kosir delivered a disastrous second effort, dropping to ninth at 1:45.87.
Compatriot and Olympic silver medalist Ole Christian Furuseth was runner-up at 1:45.39. Slovenia's Drago Grubelnik finished third at 1:45.48 for his first podium finish.
Aside from its historic significance, the victory marked a breakthrough for Aamodt, who had not won since taking a giant slalom in 1997, except for paper victories in three combined events.
The win also earned Aamodt valuable points in the World Cup overall standings, the Norwegian being the only skier realistically in a position to catch runaway leader Hermann Maier of Austria.
Maier, bent on reclaiming the overall crown he lost to Norway's Lasse Kjus last season, tops the standings with 1,100 points. Aamodt is second with 746.
The winner of the overall World Cup title in 1994, Aamodt has since been fighting to reclaim the coveted crown, falling frustratingly short on two occasions when he finished runner-up to France's Luc Alphand in 1997 and last season to Kjus.
"It's my goal to win the overall title one more time in my career," Aamodt said. "I want another win."
Two young skiers also produced impressive results Sunday.
Twenty-ninth after the opening leg, American Sacha Gros posted the fastest time in the second run to climb to 10th at 1:45.91.
Andrzej Bachleda of Poland finished a surprising fifth at 1:45.75.
Austria's Thomas Stangassinger was 25th and lost the lead in the slalom World Cup standings. Aamodt took over the top position with 294 points, while Stangassinger dropped to second with 242.
XtremeSports
Copyright (c) 2000 The Associated Press
Details