Fleischer Crashes, Blows Knee
Advice
Heading out the door? Read this article on the new Outside+ app available now on iOS devices for members! Download the app.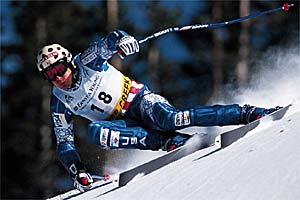 Wengen, Switzerland, Jan. 10, 2002 (AP by Erica Bulman)–U.S. skier Chad Fleischer tore ligaments in his right knee during a World Cup downhill training session Thursday, an accident likely to keep him out of next month's Salt Lake City Olympics.
Dr. Urs Allensbach said Fleischer tore the anterior cruciate and medial collateral ligaments in his right knee and had sprained his right elbow.
"From my side I would say the Olympics are not possible for him," Allensbach said. "I would say he can't ski anymore this season."
Fleischer, a 30-year-old from Vail, CO, caught a ski coming out of a small tunnel midway down the Lauberhorn course– the longest on the World Cup circuit at 14,616 feet–and careened wildly into safety netting.
Training for the weekend race was interrupted for about 20 minutes following the accident. Fleischer was given a pain killer and taken by helicopter to a hospital in Interlaken for an MRI.
"Even before I examined him, Chad said he didn't think he would be needing his race suit anymore this season," Allensbach said. "He was in pain, he was disappointed by the accident and a little bit psychologically shocked."
Fleischer probably will be operated on in the United States, Allensbach said. While it is possible to ski with a brace wrapped around a knee with a torn ACL, Allensbach said a person could not compete with a torn ACL and MCL.
"But that is for his doctors and an orthopedic surgeon to decide," Allensbach said.
There have been a series of major crashes during downhill races and training this season.
French skier Regine Cavagnoud died two days after she slammed into a German ski trainer during a practice run on Austria's Pitztal glacier on Oct. 29.
On Dec. 8, Swiss skier Silvano Beltrametti was paralyzed after losing control and crashing through safety netting during the first men's downhill of the season in Val d'Isere, France.
Fleischer called Beltrametti's crash "mind-boggling" and "scary."
"It makes you realize you take the nets for granted," he said. "It looked like a dart going through paper."
He has crashed several times, including during his 1994 Olympic debut in the super giant slalom at Lillehammer, Norway
In 1995 at Kitzbuehel, Austria he badly damaging a hip in an accident during a World Cup downhill, and 1999 injured his left shoulder during a race in Italy.