Maier Ties Klammer's Record
Advice
Heading out the door? Read this article on the new Outside+ app available now on iOS devices for members! Download the app.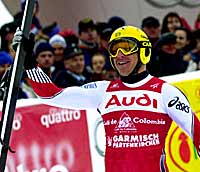 Garmisch-Partenkirchen, Germany, Jan. 26–World Cup leader HermanMaier of Austria, returning to the scene of his first World Cup victory,tied Franz Klammer's mark of 26 World Cup victories Saturday, overcominga slight case of the flu, tricky winds and an icy course to edgeKristian Ghedina of Italy by .32. Daron Rahlves (Truckee, CA) was theonly American to finish, coming in 23rd.
"I took all my chances," Maier said. "It was hard, icy, the kind ofdownhill I really like."
"Good thing Hermann wasn't healthy, huh? He and Ghedina really had itall to themselves," said U.S. DH/SG Coach Dale Stephens. Ghedina whowon the first training run Thursday by more than a second and skiedfourth Saturday really laid one down and then Maier No. 9 beat him…Look at the spread – six seconds between the first and 30th skiers."
Maier, whose first World Cup triumph was a super G win in the second oftwo SGs here in February 1997, finished in 1:55.77 for his third DH winof the season, the sixth of his career. When he came to Garmisch in '97,Maier was just another face on the powerful Austrian team, about twoyears away from a time when he was a bricklayer and parttime skiinstructor to pay his bills.
He won at Garmisch in '97 and inaugurated Beaver Creek's Birds of Preycourse the following November, at the start of the Olympic season, bywinning that super G. Much of the last three years has been spentlooking at him on podiums around the world, including two Olympic goldmedals in 1998 after one of the most spectacular, cart-wheeling,airborne crashes in the DH.
Maier's winning time Saturday was 1:55.77 with Ghedina – the only skierwithin a second of him – runnerup in 1:56.09. Hannes Trinkl, the secondof eight Austrians in the top 10, was timed in 1:57.05. Maier has woneight races this season, including three DHs, three SGs and a pair ofgiant slaloms.
After a slow start at the top, Rahlves finished 23rd in 2:00.06 whileChris Puckett (Boulder, CO) and Jakub Fiala (Breckenridge, CO) wereDNFs.
The first nine skiers were all single-number starters. "We had someweird winds and you didn't have much of a chance in the back," Stephensexplained. ""It was pretty local – it was calm at the bottom, for themost part, and at the top, too, but the middle was very windy. Someheckuva wind came up in the flats. Guys in TV towers along the coursewere climbing down because they were concerned about their safety."
"Daron skied pretty well at the last couple of sections after being slowat the top. He was pretty sick Friday; there's been a lot of flu goingaround and he didn't run training, but he was ready to go today."Puckett and Fiala were both in the top 30 going into the bottom portion,Stephens said, but Fiala crashed on a turn and Puckett missed a gatecoming off a jump. "It was a tough spot – Trinkl had trouble there intraining and so did some others – and I think Chris saw God on that one.But he'll be back Sunday."
The weather warmed by the end of the race and rain had started for thefinal few racers, the coach said, which could threaten a super Gscheduled for Sunday. "We were lucky to get this one in. Sunday couldbe ugly." He said Bode Miller (Franconia, NH) also had battled stomachproblems but was expected to race.
A women's World Cup GS race was postponed Saturday in Zwiesel, Germanydue to poor weather.