Nef 1st, Schleper 10th at Maribor GS
Advice
Heading out the door? Read this article on the new Outside+ app available now on iOS devices for members! Download the app.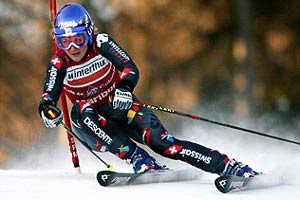 Maribor, Slovenia, Jan. 4, 2001 — World Cup and reigning world champion Sonja Nef of Switzerland skiing on one of her favorite courses led both runs Friday to capture a World Cup giant slalom by 1.53 seconds over local teenage favorite Tina Maze. For the U.S. Sarah Schleper (Vail, CO) overcame a near-spill to finish 10th.
Outdoor Life Network will televise coverage of the race Jan. 10 at 9 p.m. EST.
Nef, who won in Maribor a year ago and was second the previous season, led the first run by .28 ahead of Norway's Andrine Flemmen and — racing in sunny, 15-degree weather — finished with a combined time of 2:21.48. It was her second GS victory this winter while Maze, posting the third-fastest second run, moved up three places to finish with a time of 2.23.01
Schleper, who was sixth in her last race, a pre-New Year's slalom in Lienz, Austria, was 22nd in the first run after surviving a near-spill. Halfway through the course she went down on her hip and had to make up for it in the second run. Her two-run time was 2:23.96 while the other four Americans failed to qualify for the second run.
"It was pretty good for Sarah–very good, in fact," said Head Coach Marjan Cernigoj. "She was fourth on the top in her first run and then she went onto her hip and slid to the next gate, but she made it through that gate, got up and still qualified for the second run. She was fourth on the top but 41st in the bottom, and without that mistake, she would have been on the podium, no question. She's happy and this has her confidence going up some more."
The race marked the return to World Cup action for Alex Shaffer (Park City, UT), who has missed the last two season with left knee problems. She was seventh in a Europa Cup race before Christmas and Cernigoj decided to give her a couple of shots on the World Cup to measure her return.
The Cafe de Colombia tour continues through the weekend with slaloms Saturday and Sunday.
CAFE DE COLOMBIA WORLD CUP

Maribor, Slovenia – Jan. 4
Women's GS
1. Sonja Nef, Switzerland, 2:21.48
2. Tina Maze, Slovenia, 2:23.01
3. Stina Hofgard-Nilsen, Norway, 2:23.12
4. Andrine Flemmen, Norway, 2:23.15
5. Ylva Nowen, Sweden, 2:23.25
–
10. Schleper, Vail, Colo., 2:23.96
–
Did not qualify for 2nd run: Kristina Koznick, Burnsville, Minn.; Caroline Lalive, Steamboat Springs, Colo.; Alex Shaffer, Park City, Utah; Lindsey C. Kildow, Vail, Colo.