Telluride Officially Opens Prospect Bowl
News
Heading out the door? Read this article on the new Outside+ app available now on iOS devices for members! Download the app.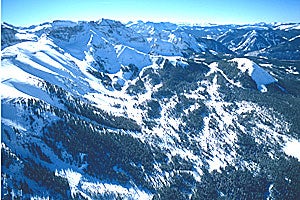 Telluride, CO, Jan. 18, 2002–Telluride's fantastic skiing and spectacular scenery got a resounding boost this season with the opening of Prospect Bowl. All levels of skiers may now access the phenomenal skiing and alpine views that the expansion area previously only afforded burly backcountry trekkers.
Three new Doppelmayr high-speed quads and a 14 million dollar infusion have created a unique ski experience within the San Juans. The 733 acre expansion is testament to a resolute and longstanding vision of the Telluride community. "After 30 years of community perseverance and dedication, we have made the dream of Prospect Bowl a reality," said Johnnie Stevens, chief operating officer for the Telluride Ski & Golf Company (Telski). "A huge thanks to everyone who helped make it happen."
The Telluride community celebrated all weekend long, beginning with ski demos and food vendors storming the Core at Mountain Village. Friday afternoon, the Latin funk band, Cabaret Diosa kicked skiers into apres overdrive on Main Street.
On Saturday, the town awoke to an electric buzz of anticipation. At noon, the action began atop Prospect Ridge as an entourage of locals and ski instructors raced down MayGirl in a flourish of red, white, and blue. Special guest, Norman Schwarzkopf, watched the mayhem ensue after cutting the inaugural ribbon. The bedlam continued when the band of locals and instructors headed up the Gold Hill Lift to ski down Little Rose creating the largest display of upright and horizontally strewn bodies ever to grace that ravine. Paragliders and guests converged in a clearing off of MayGirl for a homestyle barbecue beneath a trademark bluebird sky. Proceeds from the barbecue went to the Telluride Aids Benefit.
The sun did eventually set on Opening Day, but not without further entertainment. Shawn Colvin and Big Head Todd lit up the Telluride Conference Center after a flurry of fireworks brightened the sky above San Sophia Ridge. Proceeds from the concert benefited The Telluride Foundation.
If you go anywhere this season, go to Telluride. An increased number of flights into Montrose as well as the Telluride airport facilitate access to this brilliant gem of Colorado. The town's authentic Old West meets posh ski town character is reason enough to visit Telluride. So are the views. So is the skiing. So is the wild game at Allred's and the fresh sushi at Honga's. And above all, the Prospect Bowl expansion puts icing on an already majestic cake.
Contact Telluride Ski & Golf Company for more information.
*For travel deals in the Rockies, paste this address in your browser: http://www.myskitrip.com/travel/index.cfm?location=rockies.