Vermont's Sweet Spring Skiing is Here
Vermont's Sweet Spring Skiing is Here
Heading out the door? Read this article on the new Outside+ app available now on iOS devices for members! Download the app.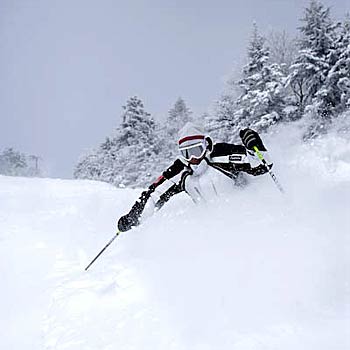 LUDLOW, Vt. –
The sight of steam billowing from local sugarhouses marks the start of spring skiing season. And what a sweet season it is! The mixture of warm days and cool nights helps fill sap buckets hanging from maple trees and creates the snow surface conditions that skiers and riders savor through the final days of winter. Okemo Mountain Resort is planning to operate through mid-April, so there's plenty of time to enjoy the spring snow, sunny skies and on-snow events like Okemo's annual Slush Cup pond-skimming competition.
With a little planning, skiers and riders can combine some sweet spring snow sliding with a visit to a local sugarhouse for a chance to see how sap from sugar maples gets boiled down to make pure Vermont maple syrup. The Seventh Annual Vermont Maple Open House Weekend will be held at sugarhouses throughout the state on March 28-30. Activities during Maple Open House Weekend will include maple sugarhouse tours where visitors can watch maple syrup being made, sample maple products and much more. And if that weekend doesn't work, the Green Mountain Sugar House, located on Rt. 100 N, just a couple of miles from the slopes, welcomes visitors throughout the maple sugar season.
"Maple sugaring is a rich part of Vermont's identity and heritage, and it's something Vermonters are incredibly proud of," said Governor Jim Douglas. "The Maple Open House Weekend is a quintessential Vermont event that gives us an opportunity to deepen our appreciation of this timeless tradition."
Vermont is the nation's leading producer of maple syrup with annual production between 400,000 and 500,000 gallons. Vermont's high concentration of sugar maple trees is also one of the reasons it consistently offers the nation's most vibrant fall foliage.
Information about Maple Open House Weekend participants can be found online at
  , the official website of the Vermont Maple Sugarmaker's Association.
More information about Okemo Mountain Resort's celebrations of spring is available by calling (802) 228-1600, or by visiting
.
It wouldn't be springtime without the annual wacky events that illicit creativity and outrageous zaniness on the slopes. Okemo Mountain Resort celebrates the season with a number of fun, family events:
March 17 – St. Patrick's Day Shamrock Scavenger Hunt
When skiers and riders find one of ten shamrocks hidden around the mountain and present it to the staff at the Learning Center desk in the Clock Tower Base Lodge, they win a special prize bag filled with goodies!
March 23 – The Hatchery Easter Egg Hunt
The slopes will be littered with treat-filled Easter Eggs. Some will have great prizes from Ludlow's own Hatchery – home of the best breakfast before the slopes! Find the Golden Egg and win a pair of skis or a snowboard from Atomic.
March 29 – IZ Style Winter Tour
It's time to crank up the IZSTYLE Winter Tour for fun in the snow. The Reverb Eco Village, allows skiers and riders to learn about environmental preservation while sampling all-natural and organic foods. There will be ski and snowboard demos, outdoor adventure equipment and all kinds of fun and prizes. Live après ski entertainment provided by the Bud Light Concert Series.
March 30 – Powers Series Slopestyle Competition
Register early in the base lodge mezzanine for the last Okemo Powers Series event of the season. There's $2,000 on the line for overall series winners. Bring your board or bring your skis and go big in the Dew Zone! Registration from 8-9:30 a.m. and the competition begins at 11 a.m.
April 5 – Annual Slush Cup
Fame, glory and prizes will be awarded in a number of categories to the hearty skiers and riders who are willing to soar down a trail and skim across an 80-foot pool of watery slush. Open to the first 125 participants. Entry fee is $20. Registration from 8:30-10 a.m. in the Okemo Base Lodge Mezzanine.
April 6
–
Harpoon Brewery Cardboard Box Race
Harpoon Brewery and Okemo Mountain Resort invite teams of three costumed and creative sled designers (18 or older) to enter the resort's first Cardboard Box Race. Registration runs from 8:30-10 a.m. in the base lodge mezzanine and the competition starts at 1:30 p.m. on Bull Run. Sleds must be at the starting line by 1:15 p.m. and in running order. No non-human form of transporting of the sleds to the top of the course is permitted. Sled design and materials rules will be strictly enforced. Visit Okemo's online calendar of events for details. The sleds will be judged on construction and artistic expression, with costumes factoring into final scores. There will also be awards for the fastest sled and best self destruction of a sled while on course. Join Harpoon Brewery in the Sitting Bull after the race for a cold beer and prizes presentation.
For more information about these events and others, call (802) 228-1600 or visit