Bad Beta Be Damned—Cody Townsend Checks Off Line No. 32 of The Fifty Project
Backcountry buddies Cody Townsend and Bjarne Salen learn that the best laid plans...might be overkill.
Heading out the door? Read this article on the new Outside+ app available now on iOS devices for members! Download the app.
It's just one day after Cody Townsend and crew check off their 31st line on their mission to bag all 50 classic ski descents of North America—a monster mission that had Townsend, pro splitboarder Nick Russell, and cameraman Bjarne Salen trekking deep into Glacier National park to scale and ski Mt. Stimson. Lactic acid is surely still coursing through their legs when Townsend convinces Salen that the pair should go ahead and drive eight hours to tackle their next objective, Idaho's Castle Peak, because conditions are prime and "50 lines aren't going to just ski themselves."
Catch up: The Fifty Project Episode 28 – Mt. Stimson
"It's deep, it's big, there's like no beta back there, and you just gotta go," says Townsend of 11,815-foot Castle Peak. And somehow, this is enough to convince Salen to rally and hightail it to the White Cloud Mountains of central Idaho to bag line No. 32. "Oh and we're going to be camping again, by the way," Townsend adds as an afterthought.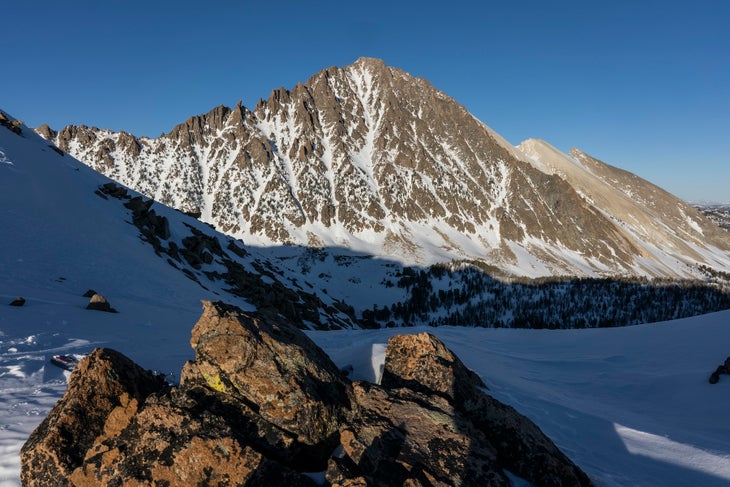 But don't worry—despite the rush and lack of beta, Townsend has the mission all figured out. From everything he's read and found out about the Castle Peak climb and ski, he estimates it will take the duo two days to check off this line, and they'll need to load their big packs to prep for a night in the backcountry.
"So tonight we'll sled to the wilderness, then tour from there and set up camp," he tells Salen. "And then tomorrow, we'll go from camp to the base of Castle Peak, then evaluate—maybe climb and ski it—then head back to camp, break down camp, get back on the snowmobiles and head on back."
But when the pair, loaded down with everything but the kitchen sink, get to basecamp after a 10-mile snowmobile ride into the wilderness, they still have eight hours of daylight to burn, and Townsend soon realizes that what little beta he has on Castle Peak may be slightly off.
"I'm really torn right now," Townsend tells the camera on a scouting mission to get eyes on Castle Peak's South Face. "I kind of just want to punch it out and get this thing over with, since conditions are good. The beta made it seem like it's a two-day thing, but this can easily be done in one. Yet, I do really like winter camping and the relaxed mode of not having to push it, and just enjoy it out here."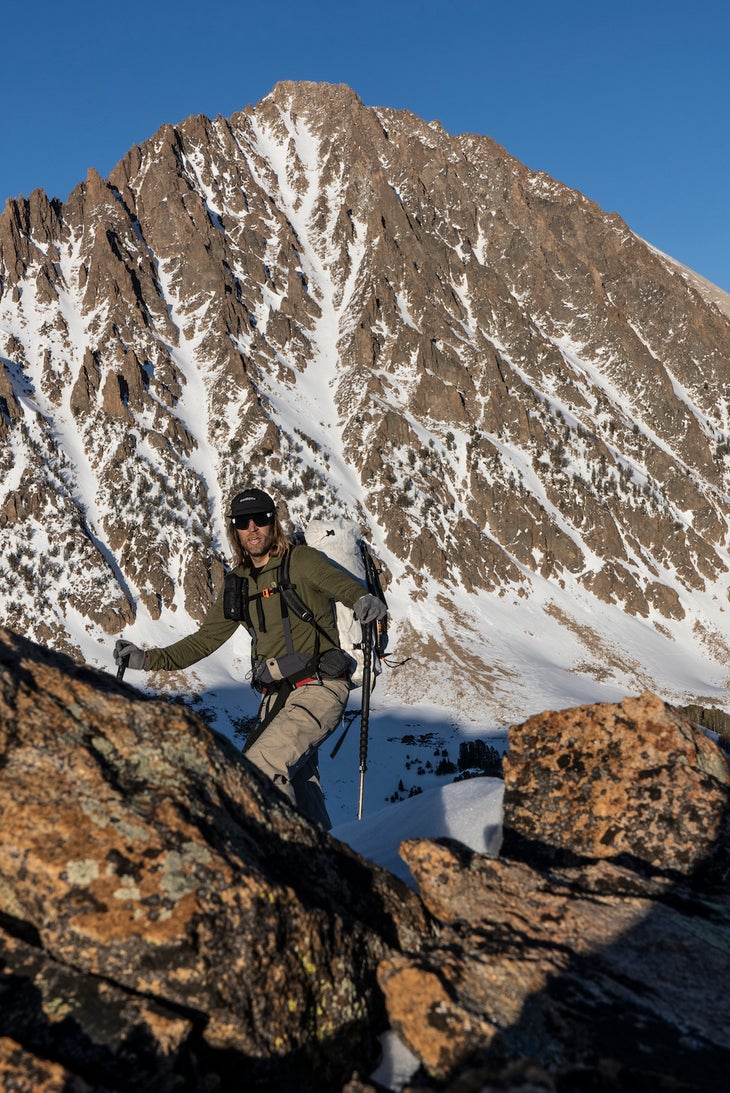 Let us just say this—if there's one thing we've learned about Townsend from The Fifty Project, it's that Townsend doesn't seem to have a relaxed mode. And this latest episode, filmed on the heels of the Mt. Stimson mission, just proves it. Was the beta bad, Townsend, or are you and Salen just animals? We'll let the viewers decide.
Watch The Fifty Episode 29: Castle Peak, Idaho
Watch More Ski Action
This new ski movie tells the story of ski industry's underdogs—the mom and pop ski areas
Go behind the scenes of Warren Miller's 72nd annual film "Winter Starts Now"