Gonna Take You Higher
East
Heading out the door? Read this article on the new Outside+ app available now on iOS devices for members! Download the app.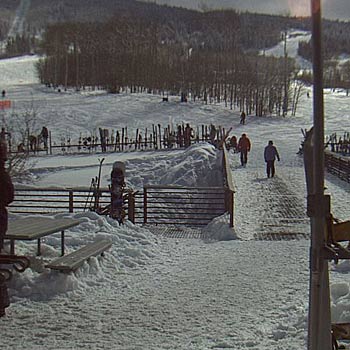 Roy tuscany is flying backward in midair on his Dynastars. Willie Bozack is next to him—also in midair—but on a motocross bike. The bike's wheels spin in futility. Willie's feet are off the pegs and extended to the sides like feeble wings. "One day Willie called me up, Tuscany explains, "and said, 'Dude, I just studded all my tires.' A hard-charging 23-year-old Vermont native, Tuscany's favorite pastime involves huge kickers, snowmobile tow-ins, and fat skis. A few phone calls and a bit of mountain management— cajoling later, Tuscany and Bozack are in Sugarbush's terrain park, launching over the Suzuki SUV owned by resort spokesperson and extreme skiing godfather John Egan. "Flying through the air in a back flip next to someone pinning it in third gear is not something you experience every day, says Tuscany, displaying a well-honed talent for understatement.
If the Vermont North Pro Team, of which Bozack and Tuscany are members, has its way, stunts of this nature will become more common. Founded in 2001 by Wes "Big Daddy Lowe and Jesse Murphy as a way to advertise their Vermont North ski shops in Waitsfield and Warren, the team has mushroomed to include upwards of 20 riders. With varying abilities and styles, they share one desire: To ski hard and often, while challenging the conventional understanding of what can be done on skis.
Inspiration comes from John Egan, who, with his brother Dan, is one of the progenitors of the modern extreme skiing movement. "Egan shows everyone that it's possible to make this lifestyle work, Lowe says of the semiretired free-skier. "He pushes us on the hill. And we push back.
A veteran of 12 Warren Miller films and holder of nine first descents, Egan is now settled in the Mad River Valley, where he owns a construction business and restaurant, hangs out at Sugarbush, and regularly skis with the Pro Team. Egan, 46, sees a bit of himself in the group. "These are the kids I influenced with my antics, he says. "And now they're out on the mountain, making me work for it. It's a beautiful thing.
The team meets midweek for what has been coined Big Wednesday, when members descend upon a local mountain (Mad River Glen and Sugarbush are favorites, though forays into neighboring states are common). Through their adventures, which include freeskiing comps, enormous gap jumps, and exploits like the Tuscany-and-Bozack tandem huck, the Vermont North Pro Team seeks to promote the shop, the sport, and the scene. At the same time, they good-naturedly throw sand in the face of Eastern skiing naysayers. "It's all about having fun and opening people's eyes, says Lowe. "I think they're starting to get it.
It's a welcome change in an environment long regarded as a breeding ground for racers; this is, after all, the region that spawned Bode Miller and Daron Rahlves, and it's home to perhaps the three finest ski-racing preparatory schools in North America: Burke Mountain Academy, Carrabassett Valley Academy, and the Green Mountain Valley School. The Pro Team acknowledges and respects these roots, but believes the East should be famous for something more than gates and icy granular. "We have enough to offer in this area, says Tuscany, who grew up in Waterbury, Vermont, midway between Mount Mansfield and the Mad River Valley. "We just need to get people stoked. We're showing them that you can do big mountain— style stuff in the East. This is the place that taught me to love skiing, and I want other people to feel the same way.
NOV 2004
CAPTIONS BELOW
Vermont North Pro Team member Roy Tuscany airs it out over the shop in Warren, Vermont.
Norther Chris Parkinson blasting Sugarbush, Vermont.