More Important than First Chair? Breakfast
Why you need it, and what skiers like Chris Davenport and Jen Hudak eat in the a.m.
Heading out the door? Read this article on the new Outside+ app available now on iOS devices for members! Download the app.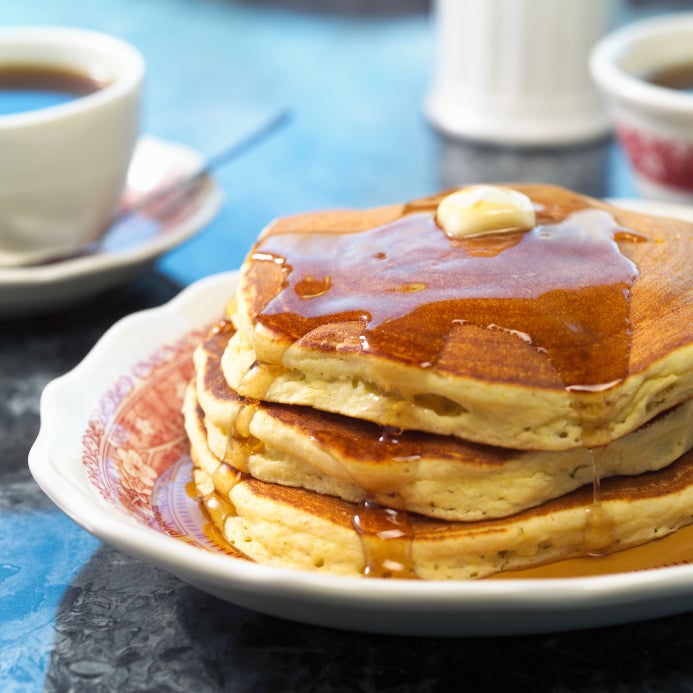 When you eat breakfast, the fast from the previous day's last meal is literally broken. In the universe of nutrition, breakfast is the most important meal of the day—especially when it comes to athletic performance. Study upon study has concluded that our morning meal is leagues more than just comforting wafts of bacon perfume and doughnuts; those who consume it are less likely to be overweight and also have better concentration. Athletic performance studies done by the United States Olympic Committee show breakfast eaters tend to have more strength and endurance, which ultimately separates the lodge lounger from the multi-lap skier.
A good breakfast, however, does not equate to jamming out of the house with a latté and granola bar. The morning meal (ideally consumed within 30 minutes of waking) is the first chance the body has to refuel its glucose levels, also known as blood sugar, after eight to 12 hours without food (markedly less if you were clubbing/late night snacking in Las Lenãs until 3 a.m., but still). Glucose, of which levels are markedly depleted during sleep, is essential for the brain, and if you like to ski trees, is a big deal. Glucose also helps fuel the muscles for physical activity throughout the day. Simply put, food is fuel, and just like a gas engine car can't run efficiently on fumes or diesel, your body will begin to putter out after just a few powder runs without the proper gas, which, incidentally, is not caffeine and chewy oats.
What then does an endurance skier need for breakfast to avoid bonking mid-morning?
In general, calorie requirements for athletes depends on the intensity of their training. The athlete who trains to exhaustion on a daily basis needs more fuel than one who performs a milder regimen two to three times a week. Calorie requirements can be as much as 23-39 calories per pound of body weight per day for the athlete who trains hard for many hours per day, and must come from all the macronutrients: carbohydrates, fat, and protein.
Carbohydrates are arguably the most important source of energy for skiers as they provide the energy that fuels muscle contractions. Once eaten, carbohydrates break down into smaller sugars (glucose, fructose and galactose) that get absorbed and used as energy. Any glucose not needed right away gets stored in the muscles and the liver in the form of glycogen to be used later. Not all carbs are created equal, mind you. Wonder bread toast and sugary pastries (refined carbs) will be quickly absorbed, causing a blood sugar spike and subsequent crash, causing hunger and cravings only an hour or two following consumption. Instead, optimal carbohydrate sources include vegetables and whole grains like quinoa or sprouted wheat bagels.
Chris Davenport, who skied all 54 Colorado 14,000-foot peaks in less then one year, begins his ski day with strong coffee, two slices of gluten free bread ("really no reason for it except that I love pasta and bread so much I thought it can't be a bad thing to lower the gluten intake") with butter, preserves, and slices of Norwegian "Ski Queen" gjetost, a.k.a. goat cheese – a staple in Scandinavian breakfast.
While carbohydrates are the athlete's preferred energy source, fats run a close second. 15-30 percent of an athlete's diet that should come from quality fat. The right kind of fat is critical. Omega-3 fatty acids found in deep cold water fish like wild caught salmon, walnuts, and flax seeds help the body modulate inflammation. On average, Americans consume too many Omega 6 fats from vegetable oils including soy, corn, safflower, etc., which are commonly found in processed and packaged foods. Overconsumption of these fats can contribute to inflammation in the body, causing joint pain, and longer rebound times from injury. For breakfast, think back to that sprouted wheat bagel, add some full fat organic cream cheese (or gjetost), and top with smoked salmon and sliced onion. Other options include adding flax seeds to your smoothie, or walnuts to Greek yogurt.
Meanwhile, protein requirements are often higher for both strength and endurance athletes than for those not performing vigorous exercise. But contrary to popular belief, as long as the diet contains at least the typical 15-30 percent of calories as protein per meal, protein supplements or replacement shakes are not necessary or likely to benefit you. So the whole misconception that athletes need to jam up on protein is not necessary true. However, in the case of injury, protein and vitamin C are the two most important nutrients for expedited healing. Around 30-40 grams of protein is ideal for breakfast, which translates into a three-egg omelet with a side of Greek yogurt.
Jen Hudak, five-time X-Games medalist and four-time US National Halfpipe Champion, starts her day with a spirulina and protein smoothie. By mixing together Nano Pro (whey protein) and Nano Greens (spirulina, chlorella, etc.) and a teaspoon of iFlora (probiotic powder) in about 12 oz of water, Jen says "I find I don't even need coffee when I start my day with this. The rest is a little flexible, but I need to have protein in the morning or I'll be hungry 20 minutes later, no matter how much I eat. So I'll usually cook two eggs and have a small bowl of oatmeal as well. Breakfast is my favorite, so I try to eat a lot… it fuels me well for the rest of my day."
The last key breakfast nutrient is water. The American College of Sports Medicine says that during exercise lasting less than one hour there's little evidence of any difference in performance between exercisers who drink beverages containing carbohydrates and electrolytes, and those who drink plain water, though for skiers, electrolyte replacement is a good idea. Sugary Gatorade, however, is not; instead grab a Recharge, Hydrofuel, Smart Water, or an Emergen-C powder. A person should drink half their body weight in ounces of water per day. During activity, add 4 ounces of water for every 15-20 minutes of activity as a baseline. Symptoms of mild dehydration include chronic pains in joints and muscles, lower back pain, headaches and constipation, and elevated blood pressure. Not to mention, caffeine and alcohol have a diuretic effect, meaning they increase the excretion of urine and lead to dehydration faster.
Like snowflakes, every person is different, so experimenting with different breakfast combinations is the best way to find out what works best for you and your skiing performance.
Grab and Go Breakfast Recipe: The Frontside Frittata
3 tbsp. olive oil
1 red onion, chopped
1 organic red pepper, chopped
2 small zucchini, sliced
2 avocados, sliced
8 organic eggs
1/2 c. Parmesan cheese, grated (optional)
1/3 c. unsweetened almond milk
1/2 tsp. salt
1/4 tsp. white pepper
2 tbsp. chopped parsley
Preheat oven to 350 degrees. Sauté the onion, pepper, and zucchini in oil. Spread vegetables across the bottom of a greased 9-inch square baking pan. Meanwhile, beat together the eggs, milk, cheese and spices. Pour egg mixture over the vegetables. Bake for 35-40 minutes or until middle is solid. Cut into squares after frittata has cooled slightly and top with avocado. Serves 8. *Add cooked nitrate free bacon or organic chicken for extra protein.
Jess Kelley, MNT, is a Master Nutrition Therapist and has completed over 500 hours of nutrition education at the Nutrition Therapy Institute in Denver, Colorado. She has a private practice in southwest Colorado called Durango Nutrition where she specializes in food allergies and hormone balance. Jess has a BA in Journalism and is currently the Managing Editor for Edible San Juan Mountains Magazine. She can be reached at jess@durangonutrition.com.