Top 10 Spring Break Resorts
Spring is here and with that comes plenty of beer, corn, parking lot shenanigans, and freak dumps. Check out the best places to ski on your spring break here.
Heading out the door? Read this article on the new Outside+ app available now on iOS devices for members! Download the app.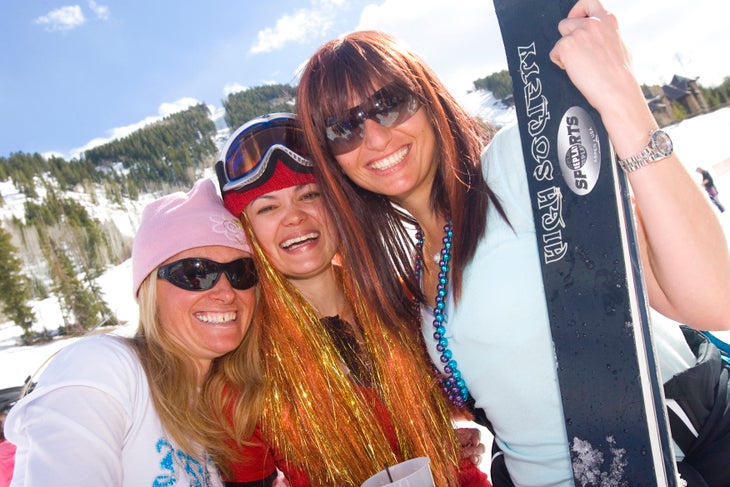 SkiNet's #1 Ski Town is also one of the best places to catch some spring skiing every year. With a bevy of events like the Bud Light Spring Jam, Red Bull Schnee Tag, and Helly Hansen Battle of the Bowls, everyone can find their niche whether it's a huge party or a Big Mountain competition with the most elite competitors.
Must-See Event: Bud Light Spring Jam. March 20-22, 27-29. It's got everything. Free concerts, parties, big air comps, and Red Bull crazy events.
Deals to Steal: Spring MVP Package 4 days/4 nights for $430.
For more info: aspensnowmass.com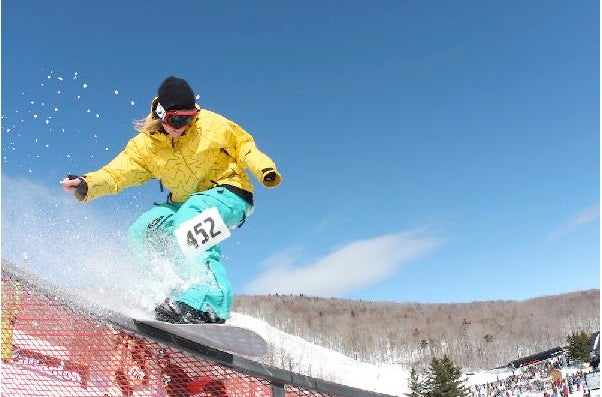 As more and more East coast resorts get icier and icier, Killington keeps the snow soft with an incredible snowmaking system that ensures your spring skiing isn't more like summer skiing. 250 inches annually of natural snow doesn't hurt either. 65 full-time employees, 88 miles of snowmaking pipe, 1,435 guns, and 18 guns just sweeten the deal.
Must-See Event: Spring Loaded. March 28-29. The superpipe competition is the main attraction of this event with a few concerts and parties thrown in.
Deals to Steal: Purchase your 2009-2010 Season Pass before April 30 and save huge.
For more info: killington.com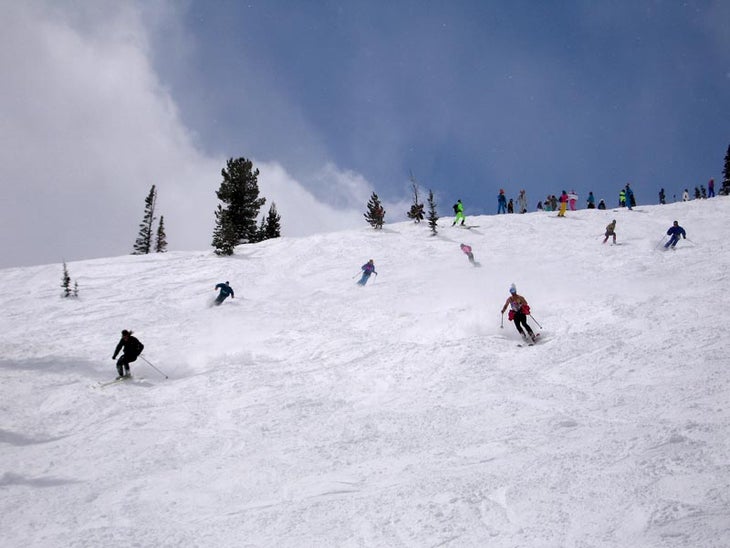 The country's most steep ski area is also one of the most fun in the spring time. Jackson Hole is bringing their extreme theme to the spring with snowmobile climbs, a spicy Ozomatli concert, a local's appreciation party, and a mechanical bull. It's a little bit country and a whole lot of Jackson Hole.
Must-See Event: Jackson Hole Mountain Festival. March 28. Ozomatli headlines this epic day of spring celebrations.
Deals to Steal: Hostel X Spring Package. $82 for lift and lodging.
For more info: jacksonhole.com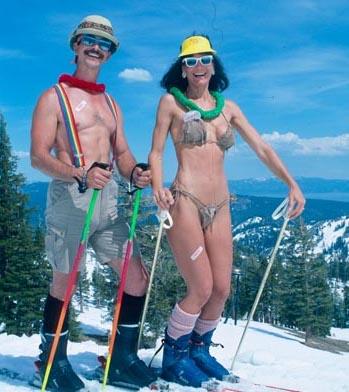 It's hard to beat this California resort for Spring Break. Arguably, it has the best corn snow you'll find in March or April, a bar that you can ski to, and a heated pool at 8,200 feet. It's like Cabo meets Whistler, but with more extreme terrain, better locals, and no opportunity to get Montezuma's revenge. March averages 91 inches of snow, April, 67 inches and you'll find plenty of days where the temperatures stay in the mid 50 degrees F. Is this paradise? Perhaps so.
Must-See Event: Peaks & Lagoons Spring Party Weekend. April 11-12. Music at the pool, the SnowBomb Sick & Twisted Slopestyle, and classic spring parties.
Deals to Steal: 3rd Night Free at America's Best Value Inn
For more info: squaw.com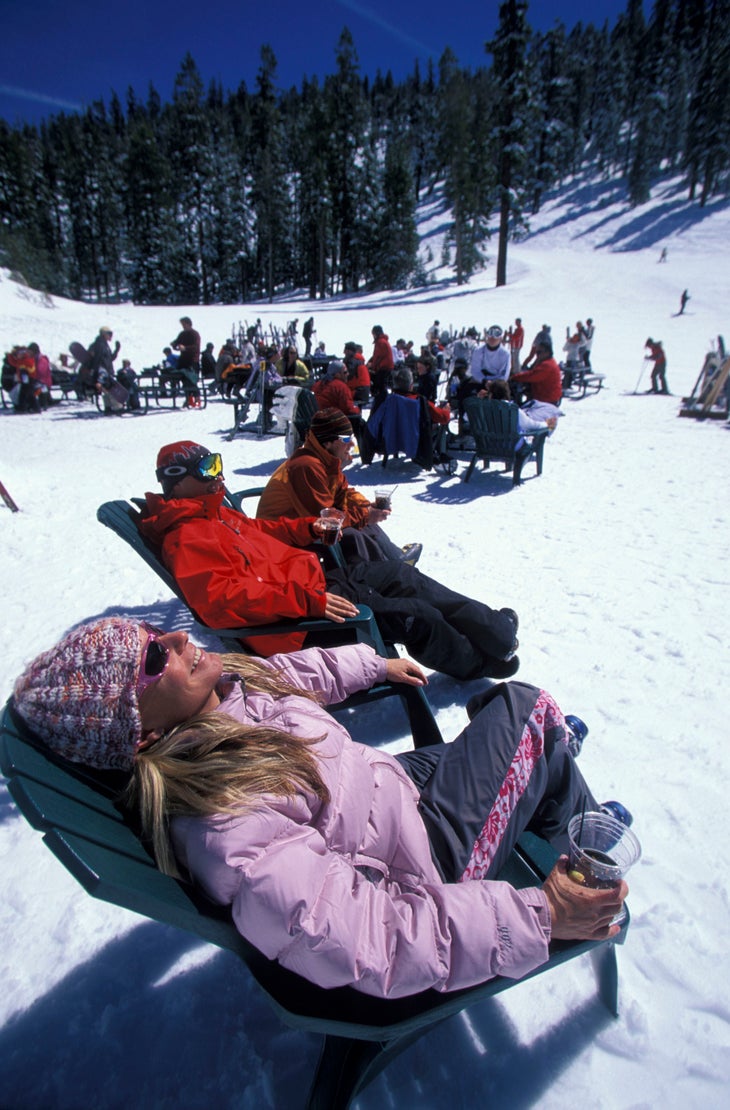 The party capital of the ski world is not shockingly the party center for Spring Break. Heavenly's Spring Loaded brings everything together for March and April and is more than you could ever want. You might as well move to South Lake Tahoe, because unless you live there you'll miss something unforgettable. See what 24 Heavenly hours look like!
Must-See Event: The Jackpot Rail Jam during Spring Loaded. March 14, 21, 28. Sweet competition.
Deals to Steal: Five nights, four days for $395 Stay at a casino and resort and get free admission to blu nightclub.
For more info: skiheavenly.com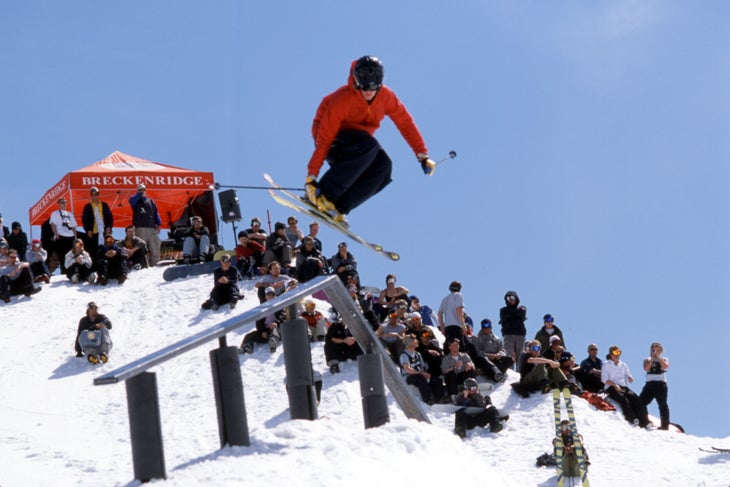 Breckenridge knows the most important thing about spring is food and beer. And lots of it. That's why they've included the Bite of Breckenridge and a Massive Beer Festival. Don't worry they haven't forgotten about killer concerts, grueling competitions, or a HUGE birthday party. Breckenridge celebrates it's 150th Birthday this year, and the Spring Massive throws a kick-off party to get it all going.
Must-See Event: Spring Massive Festival. April 1-19. Food, beer, comedy, competitions, concerts, and more during this literally massive festival.
Deals to Steal: March to the Mountains Stay for as low as $70 at five different lodges in Breck.
For more info: breckenridge.snow.com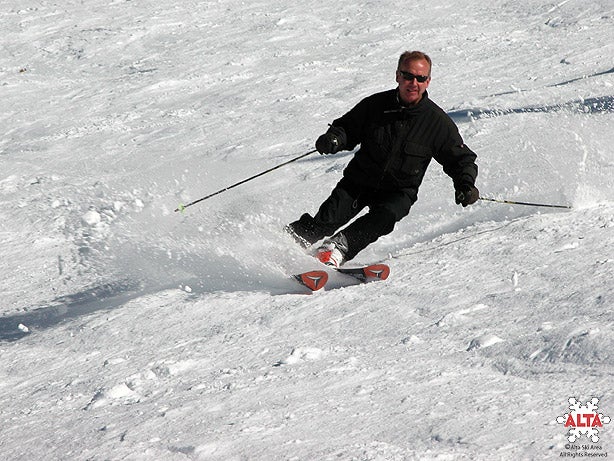 Utah is famous for a few things, but the one that gets us most excited is the incredible year-round snow that just keeps coming late into the season. Alta and Snowbird are the meccas for this spring powder gift, with each resort averaging over 500 inches of snow annually. That's double (or triple!) what you'll find over most resorts in the country. Throw in a few music festivals, movie showings, the US Freeskiing Nationals, and backcountry classes and you got yourself one well rounded spring break.
Must-See Event:North American Gelande and Ski Jumping Championships at Snowbird. April 16-19. Check out this staple of ski history live and way above your head.
Deals to Steal: 4 nights and 3 lift tickets at the Peruvian Lodge for $314.
For more info: alta.com and snowbird.com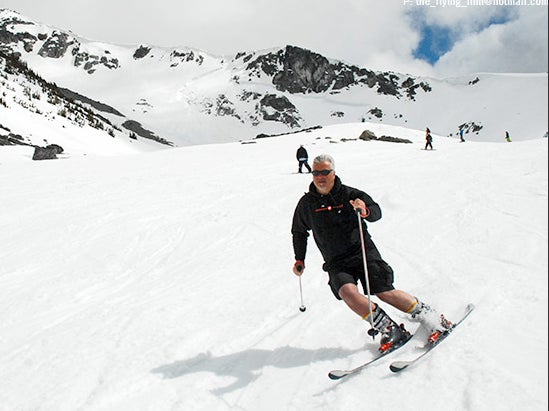 One of the biggest events at any resort each spring is the TELUS World Ski and Snowboard Festival at Whistler. Given that the average daily schedule during TWSSF has, for the last 13 years, consisted of : wake-up, shred/compete, après, music, more après, explore something artsy, party, party, party, sleep, arise and do it all again, the Festival has decided that it's time to remind everyone to salvage some time to eat. So this year they are bringing in incredible chefs for the Chef's Challenge, the ultimate food throw down, which really is just another excuse to drink more at après.
Must-See Event: The TELUS World SKI and Snowboard Festival. April 17-26. Skate, grenades, mutants and knifemanship.
Deals to Steal: TWSSF 2 Night 2 Day package $82 per person per night.
For more info: WhistlerBlackcomb.com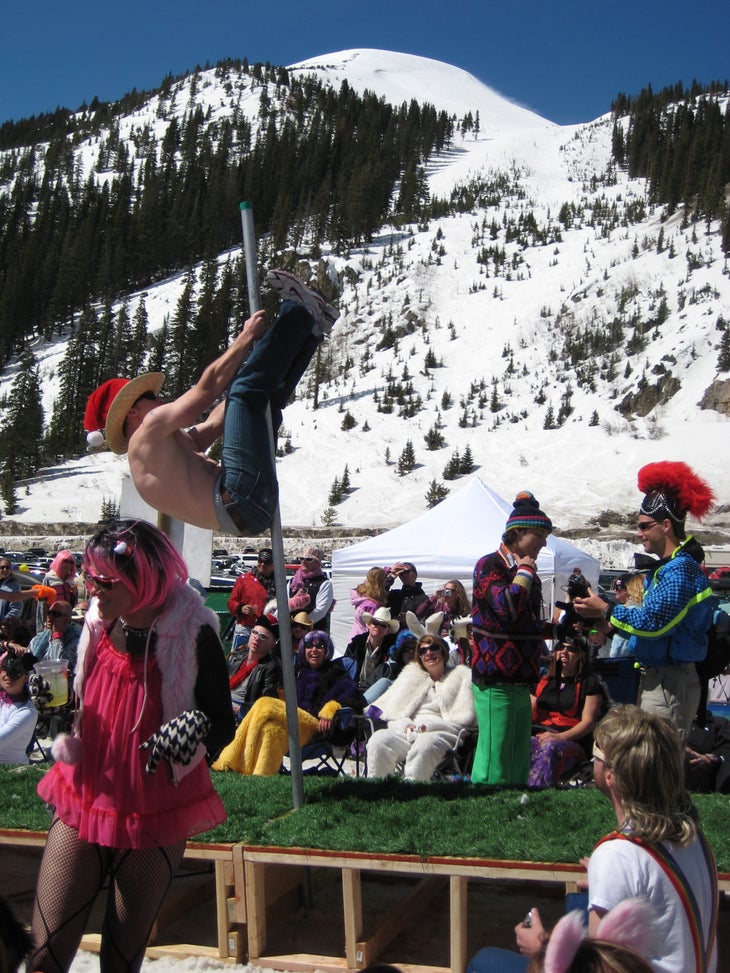 It's no secret that A-Basin has the most going on in the spring. Every weekend you'll find people getting parking spots for The Beach at 4:00am so that they can have front row seats to the debauchery that ensues at the base. You'll never see more costumes, more kegs, more out-of-this-world characters as you'll see at A-Basin in the spring. Unless you are a Burning Man participant, then maybe you'll feel right at home. It's safe to say, The Legend is THE place to be through closing in June.
Must-See Event: The Beach. Every Saturday and Sunday through the end of the season.
Deals to Steal: Get $50 lift tickets when you buy through Liftopia.com.
For more info: arapahoebasin.com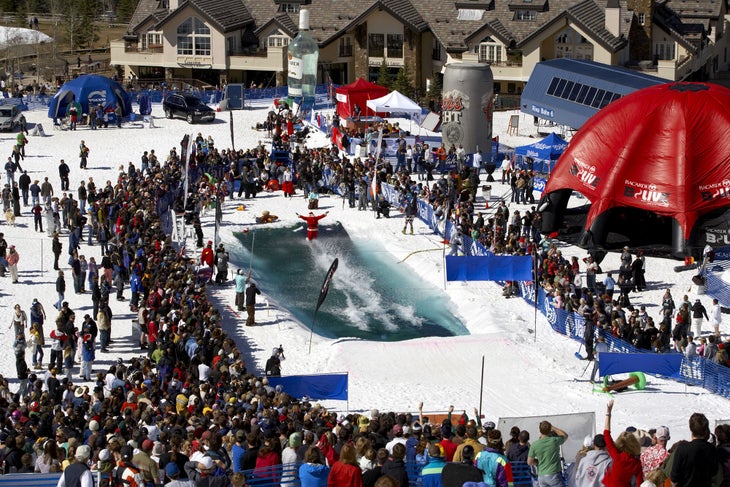 Vail does spring like Vail does everything else: BIG. National headliners, sweet deals, and the World Pond Skimming Championships highlight the spring season every year with "Spring Back to Vail." If you're planning on heading to the hills instead of the beaches, make sure to think about Vail before you book your flight. A few days here and you will never need to head to the college-student infested clubs of Cabo.
Must-See Event: Spring Back to Vail. April 13-19. Chris Isaak, Matisyahu and OAR headline this BIG party.
Deals to Steal: $199 for a 7 Day Lift Ticket. Get Lodging too and save.
For more info: vail.snow.com