The Best Men's Frontside Skis of 2022: Salomon Stance 90
See what SKI Magazine's expert crew of testers think about the performance of the Salomon Stance 90 Frontside ski.
Brand:

Salomon

Model: Stance 90
Overall Ranking: #9
Overall Score: 3.69 / 5
---
---
Specs
Tip / Waist / Tail (mm)
126-90-108
Lengths (cm)
168, 176, 182, 188
Radius (m)
18 (176 length)
Core Material
Poplar, Titanal, Carbon/Flax
Sidewall Construction
Sandwich
Stability at Speed
4.21 / 5
Quickness / Maneuverability
3.68 / 5
Hard Snow Performance
3.82 / 5
Crud Performance
3.46 / 5

While some skis are described as "chattery," "loud," and that they "talk back" in variable terrain, the Salomon Stance 90 can be commended for being deafeningly quiet. Built with two layers of Titanal and a full poplar wood core, the Stance 90 lets its high-speed performance do the talking by staying damp and stable in all sorts of terrain. "A smooth operator that instills high confidence while on edge," notes tester Mike Britt. "I like a ski that is quiet."
Of course, all that damp metal and wood makes the Salomon Stance 90 resoundingly stiff compared to many of the other skis in this category. That didn't jibe well with some testers looking for a little more spark in the plug and poppiness exiting the turns. But it did make the Stance 90 stand out for unadulterated fun in groomed terrain. "Consistent flex pattern puts this ski ahead," writes tester Otto Gibbons. "Comfortable to engage and fun to lay into a carve. Very well-rounded frontside ski."
Salomon does liven up the ski by removing some of the top layer of Titanal and replacing it with the company's signature carbon and flax blended laminate. This reduces any notion of a "planky" feel and adds some terrain adaptability in the shovel and tail to make the ski easier to tip and rip. Testers that could handle all of the Stance 90's sports car performance didn't want to put them back on the rack. "Too serious for slashy fun, but so clean and mean on everything else," says long-time tester Mark Elling.
Strengths: Stability at Speed (7th in category), Flotation (7th)
Weaknesses: Playfulness (13th), Crud Performance (13th)
Buy the Salomon Stance 90: evo | Skis.com | Amazon
This Year's Best Men's Frontside Skis
Go Deeper: What's Great (and What's Less Great) About the Salomon Stance Skis
Read about Salomon's Awesome Products for this Year
SKImag.com Affiliate Link Policy
Salomon Stance 90 – 2021 Men's Frontside Ski Review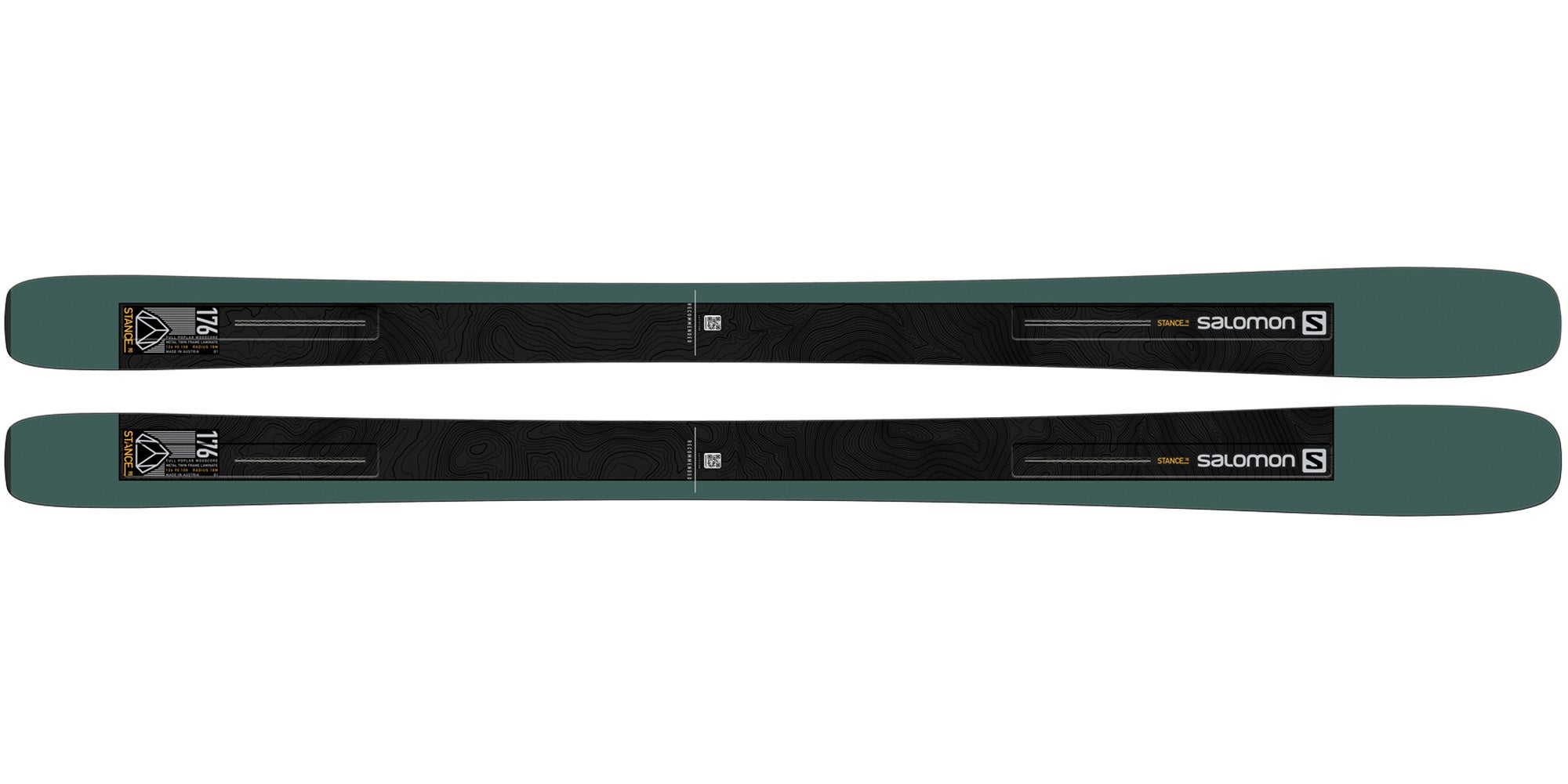 The narrowest member of the all-new Stance series was all bite with minimal bark. Using a plentiful amount of Titanal and the brand's signature Carbon and Flax laminate, the Stance 90 is especially damp and remains mostly chatter-free at speed. The race-inspired sidecut combined with a freeride feel means the Stance is a next-level frontside charger for strong mavericks who feel the need for speed. Gleason: "Electrifying quickness slings you from arc to delectable arc. The smooth recoil in each turn begs to push the pedal harder."
Watch: SKI Review – Salomon Stance Line
Video not displaying correctly? Watch it here.
STRENGTHS: Stability at Speed, Quickness
WEAKNESSES: Crud Performance, Forgiveness
Buy the Salomon Stance 90: evo | Skis.com | Amazon
Read more about the new Stance line
See the best frontside skis for men
| | |
| --- | --- |
| Salomon Stance 90 - 2021 Men's Frontside Ski Scores | |
| OVERALL SCORE | 3.78 / 5 |
| QUICKNESS / MANEUVERABILITY | 4 / 5 |
| PLAYFULNESS | 3.75 / 5 |
| FORGIVENESS | 3.44 / 5 |
| HARD SNOW PERFORMANCE | 3.56 / 5 |
| CRUD PERFORMANCE | 3.44 / 5 |
| BALANCE OF SKILLS | 3.75 / 5 |