The Best Camera Backpacks for Skiers
Whether you're in-bounds, in the backcountry, or somewhere in-between, get the shot every time.
Heading out the door? Read this article on the new Outside+ app available now on iOS devices for members! Download the app.
If you upgraded from a phone to a professional level DSLR camera body and a few fancy lenses, don't just throw it all in your regular backpack and hope nothing breaks. Instead, invest in a backpack designed to take care of your investment that also accommodates days on the slopes with comfort and ease.
Best Backpack for Photographers in the Backcountry: Atlas Athlete Pack
The Atlas Athlete does everything you'd expect a solid camera pack to do, and then goes one step further. Imagine a proper backpacking pack—engineered to support a heavy load and distribute weight ergonomically—and then insert camera and lens compartments. It sounds simple, but with photographer-designed details and proper pack functionality like stabilizer straps above each shoulder, you'll feel (nearly) invincible on-mountain.
The 40-liter expandable bag is built around the rear-accessed camera compartment that holds a camera body and lenses. Inside the camera compartment, removable dividers allow for endless customization depending on what gear the day calls for. The interior of the non-camera section of the pack, accessible via top flap like a standard top-loading pack, expands or contracts easily to fit all kinds of gear, from a laptop in the dedicated laptop sleeve on travel days, to shovel, probe, crampons, and warm layers on ski days.
A game-changer for carrying heavy camera gear while touring uphill, shredding downhill, and shooting in between. Bonus: Pick frame height and hip belt size to dial fit in. [$385, atlaspacks.com]
Best Camera Backpack for Ski Resorts: Thule Aspect DSLR Backpack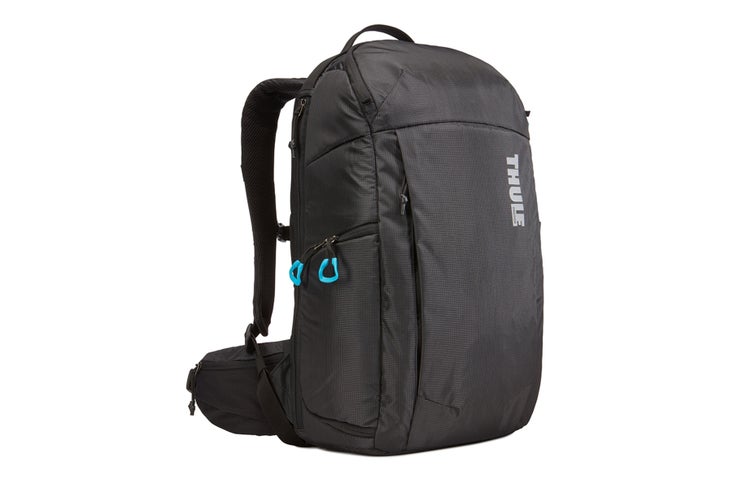 The Thule Aspect is perfect for in-bounds shooting. A padded hip belt takes the brunt of the load when fully loaded, and adjustable stabilizer straps on the shoulders ensure you're keeping your center of balance where it needs to be while skiing. A side access panel makes it possible to access a camera without removing the pack for shooting on the fly and a large storage compartment for personal items on the top of the pack is large enough to fit an extra layer, snacks, and then some.
The padded storage compartment holds just the basics, one camera body with lens and another smaller lens, which works great for quick excursions on-mountain. While a 70-200mm lens didn't fit in the padded camera compartment, it did fit it in the top compartment intended for personal items, within its own padded bag. [$129.95, BUY NOW]
Best Everyday Camera Backpack: Peak Designs Everyday Backpack 20L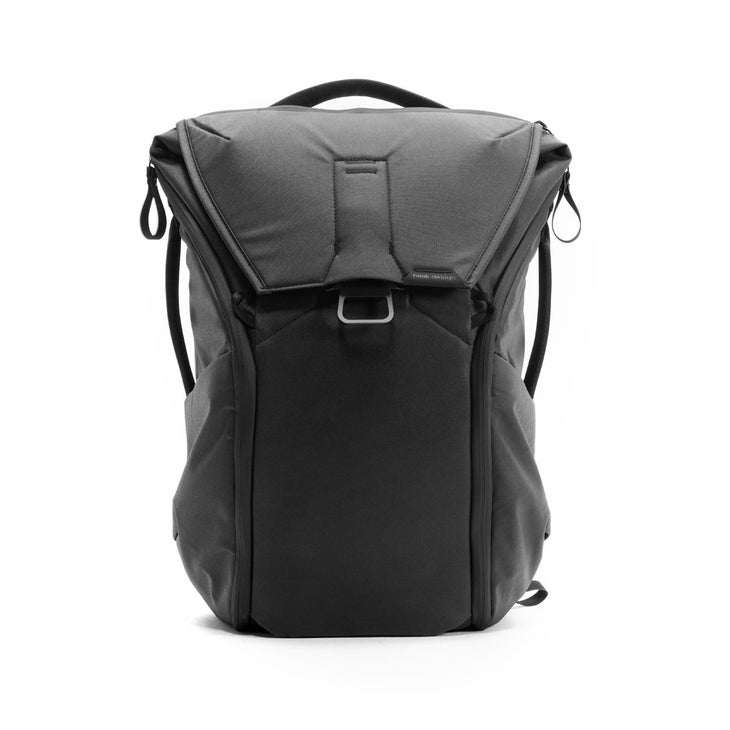 The Peak Designs Everday Backpack is my top choice for off-mountain adventures like travel days and city life. It takes the cake for thought-out storage compartments with plenty of attention to detail and options to customize storage. The main compartment's contents are accessible through either side panel of the pack—which unzip fully like butterfly wings—or top flap, which makes accessing gear easy no matter where it is.
The main compartment features customizable compartments that attach to either wall of the interior to secure camera body and lenses into place, offering plenty of space to fit a camera body and several lenses. Access a designated laptop pocket from the top of the pack, where you'll also find another small pocket handy for stashing a wallet and keys.
The Best Photos from the 2018/2019 Ski Season: Focus
While the Everyday Backpack slays in town and while traveling, it isn't designed for on-mountain shooting. That being said, we can't reiterate enough how great the aptly named Everyday Backpack is for everyday use. [$259.95, BUY NOW]