The Best Women's Alpine Ski Boots of 2023
These traditional downhill ski boots are built for ladies who charge the resort
Heading out the door? Read this article on the new Outside+ app available now on iOS devices for members! Download the app.
Shopping for new ski boots can seem overwhelming until you realize there's only one basic decision you have to make: Do you need a ski boot to cruise or charge the resort, or are you looking for something more versatile that you can also use in the backcountry? If you're exclusively a resort skier, you're in the market for traditional alpine ski boots (also known as downhill boots), and you're in the right place.
Alpine vs. Hybrid Boots
Traditional alpine boots are designed to enhance performance for the type of skiing you're likely to do at the resort: making turns at faster speeds, on firm and chopped up snow, and using more edging skills. Alpine boots (also known as downhill boots) are made with heavier, stiffer plastics that encourage better energy transfer when you're doing this kind of skiing at the resort. While alpine boots may include some features you'll see on hybrid boots these days, like GripWalk soles and walk/hike modes, they differ from hybrid boots in that they're heavier and designed to be compatible with traditional alpine bindings—they do not feature the metal tech inserts in the toe that  you see on hybrid or alpine touring boots designed to work with alpine touring or hybrid backcountry bindings.
Get the skinny on skinning: Learn the basics of alpine ski touring gear
How to Buy Ski Boots
Here we list the most exciting new women's alpine ski boots to hit the market in 2023. The boots on this list were vetted by a professional female bootfitter who considered the technology, performance, fit, and customization of each boot. While we're big fans of the boot models listed below, they may not be the right fit or choice for you. Unless you're an experienced skier and know your boot size, volume, flex and last, visit a professional bootfitter to figure out what boot is best for your physique and skiing style. If you determine a Low Volume boot or 120 flex isn't right for you, consider other models of the boot families listed below—more often than not, these boot lines offer a variety of volume and flex options.
Related: 5 things you should know before buying ski boots online
Reviews: The Best New Alpine Ski Boots for Women
Section divider
Dalbello Veloce 95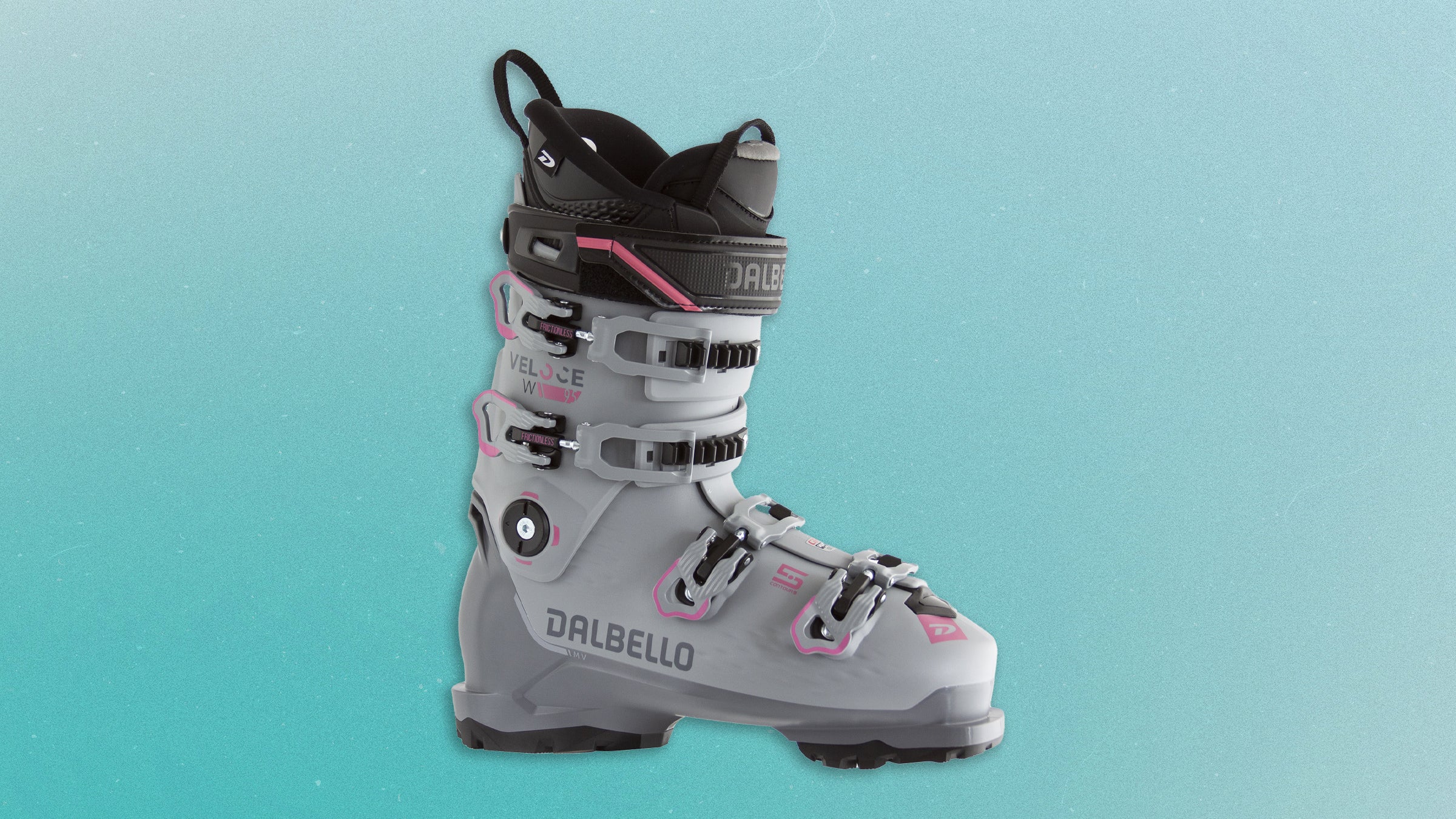 Flex: 95
Last: 100mm
Volume: Medium
Size range: 22.5-27.5
Price: $600 (Buy Now)
Dalbello already had industry-leading technology in its cabrio designs. Now it's taken some of its previous innovations, added more comfy features, and presto: We have the new Veloce line. The women's Veloce 95 is a comfortable boot with forgiving intermediate stiffness. Dalbello took the blueprint of the three-buckle cabrio format and incorporated it into a four-buckle overlap. The lower part of the lower shell is stiffer than the upper part of the lower shell (confusing, we know), which creates a stable platform for consistent power transfer from the foot, with an upper cuff that is easier to open up and get into. The Veloce incorporates Dalbello's Contour 5 concept, with a liner and shell that make this model very bootfitter-friendly. The plush PrimaLoft liner has a memory-foam tongue that contours to your anatomy, relieving pressure through the shin. This boot provides a long-lasting, warm fit for the female cruiser who likes to lead the way. The Dalbello Veloce boot family for women also includes 85 and 105 flex models.
Section divider
Rossignol Pure Elite 120 GW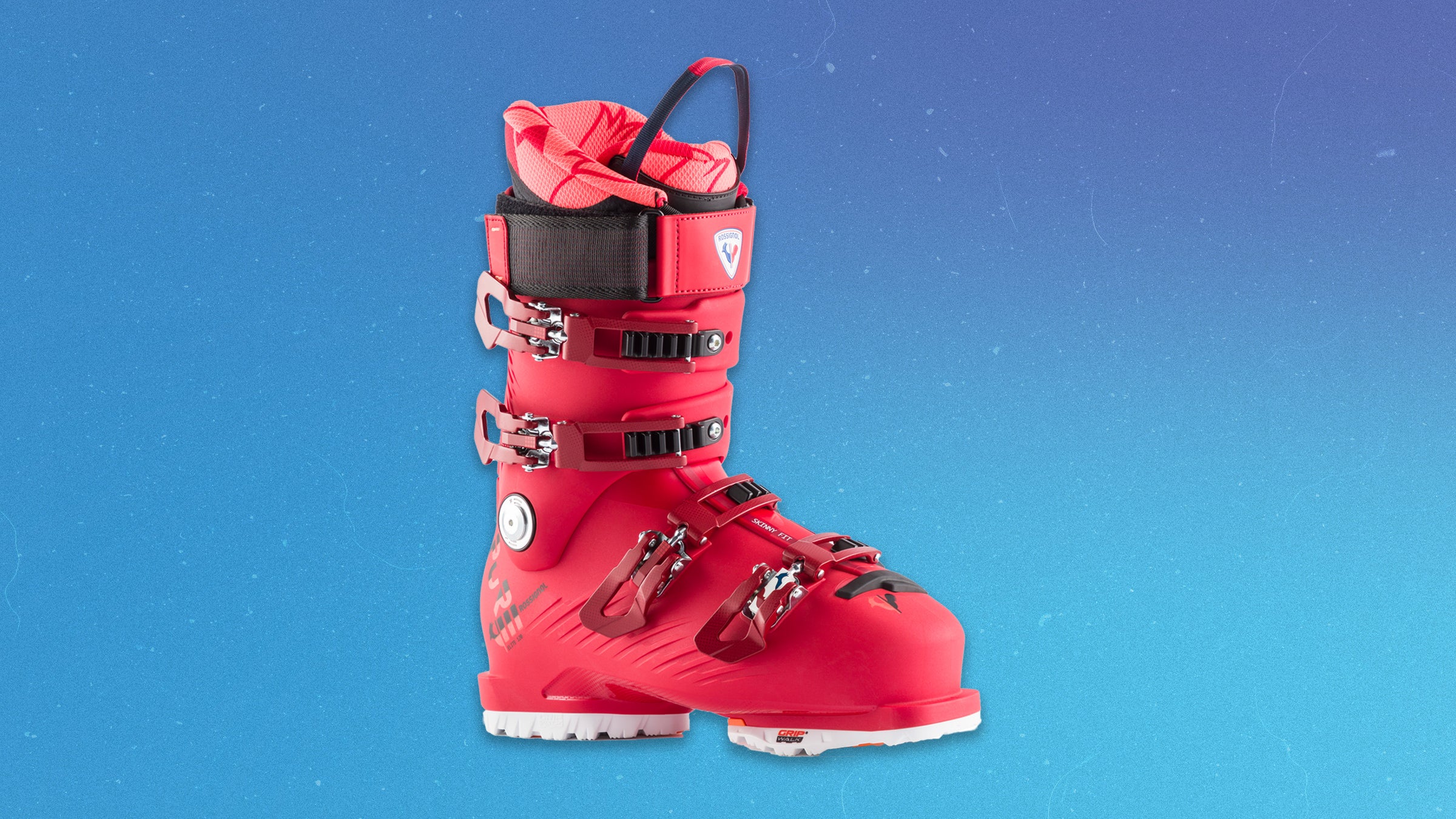 Flex: 120 (+/- 5)
Last: 98mm
Volume: Low
Size range: 22.5-27.5
Price: $750 (Buy Now)
Rossignol's Pure Elite 120 GW is the perfect boot for playful chargers. The first noteworthy thing is its weight for the flex. When you lean into it, the bouncy polyether plastic keeps a firm hold, but progressively moves with you in and out of the flexed position. The narrow fit adds stability and nicely secures the heel. Rossignol's five-zone design alleviates common pressure points, lending an anatomically comfortable feel out of the box that becomes more noticeable after thermo-molding. While there is a noticeable seam on either side of the forefoot of the liner, just behind the toes, Rossignol went to lengths to create a seamless toebox. The tulip-shaped cuff of the liner is ideal for women with muscular calves. The Rossignol Pure Elite 120 GW is a great choice for ladies who embrace a playful style on-piste but also like to hunt for powder stashes. Also available in softer 70 and 90 flex models.
Section divider
Atomic Magna 105 S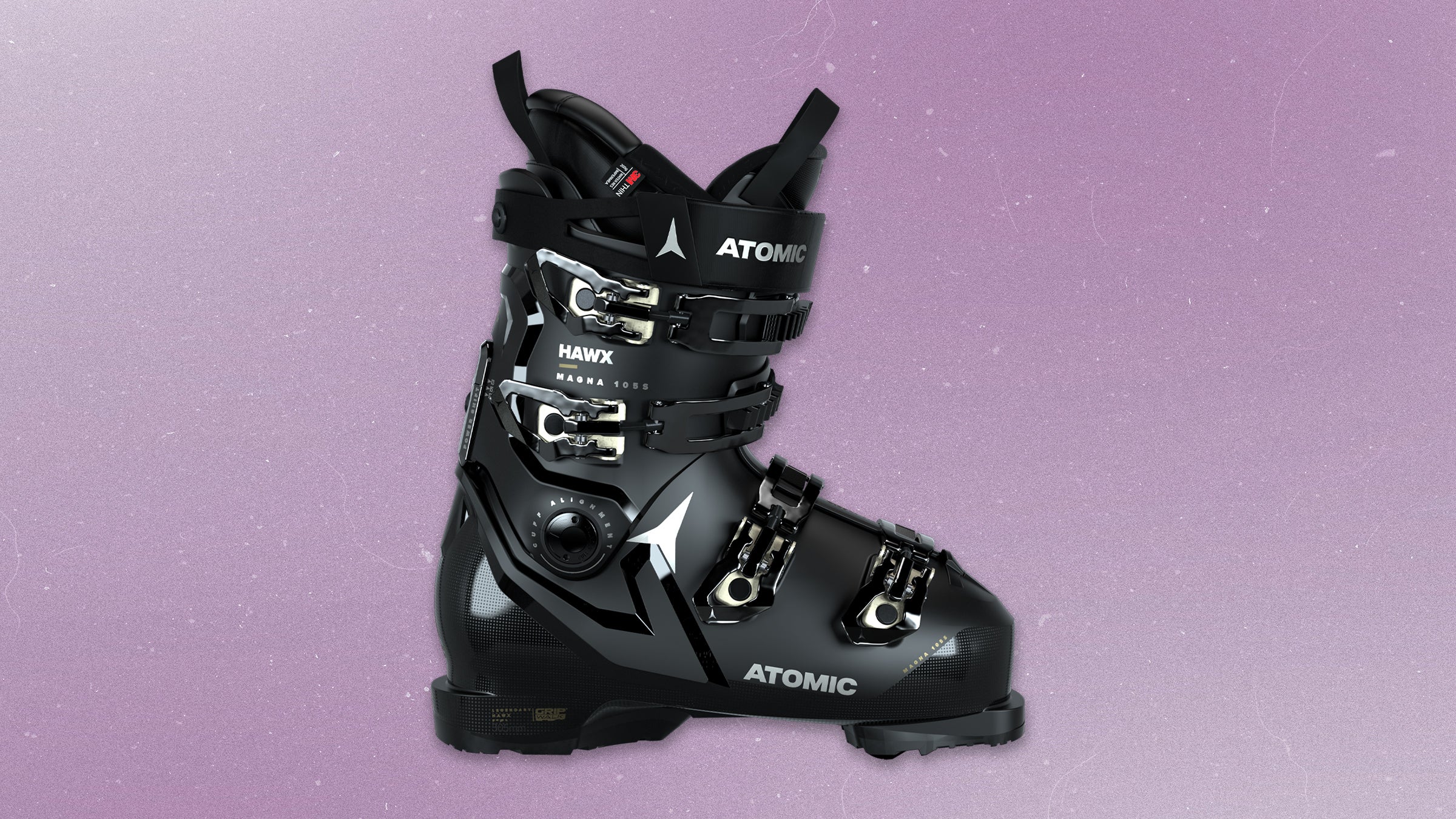 Flex: 105
Last: 102mm
Volume: High
Size range: 22.5-27.5
Price: $725 (Buy Now)
High-volume and high-performing, this season's Atomic Magna 105 S is a noticeable upgrade from its predecessor. In this version, Atomic integrates its game-changing Prolite technology found in the brand's Prime and Ultra boot models. This reduces the overall weight of the boot by reinforcing strength and stability in areas where it's needed most; this construction also contributes to a consistent feel as you move through the flexed position. Upgrading the plastic and introducing the Mimic Gold W liner takes this boot from a cushy intermediate performer to an all-mountain charger for the progressing skier. The increased performance doesn't detract from the comfort or ease of entry, and the memory-fit moldability of the combined shell and liner enables the skier to get a precise fit from forefoot to calf. The upgraded features of this boot will help shift the confidence level of an intermediate skier to that of a powder hound. If the 105 is too stiff for your style or physique, check out the 75, 85 or 95 flex options.