Can Today's Wide All-Mountain Skis Hack It Back East? Our Gear Experts Weigh In
The short answer is yes. The long answer is a little more nuanced.
Heading out the door? Read this article on the new Outside+ app available now on iOS devices for members! Download the app.
When SKI publishes ski reviews and the annual Gear Guide, we often get a flurry of letters to the editor and social media comments from Eastern skiers who argue that our reviews are only helpful to skiers west of the Rockies. Their claim: The skis we classify as all-mountain or all-mountain wide (skis with 90mm-plus underfoot) may perform well out West, where the snow is soft and plentiful, but they would never hack it on Eastern slopes.
Is this true? SKI's gear test director, Jenny Wiegand, put that question to veteran SKI testers Kristi Brown Lovell and Mark Wallace. Brown, a former University of Vermont ski racer, calls Stowe, Vt. home; Wallace, also a former racer and founder of Parlor Skis in Boston, Mass., builds custom skis primarily for East Coast skiers. If anyone knows what skis get the job done on Eastern snow conditions, it's these two.
Key Takeaways
how a wide ski performs on hard snow is dependent on the ski's sidecut and core materials as much as its waist width
a skilled skier who knows how to carve and edge will be able to get a wide all-mountain ski to bite on hard snow
less skilled skiers who have not yet perfected edging will have a hard time getting a wide all-mountain ski to grip on ice
wide skis promote skidding instead of carving, which requires less skill and can also be more energy-efficient
turning wider skis can be harder on the knees since more torque is involved; this is especially true when skiing on hard snow surfaces
while many of today's wide all-mountain skis feature solid sidewall constructions and metal in the core to promote better performance on hard snow, they still may not be the best tools for Eastern skiers who primarily stick to groomers
What the Gear Experts Say About Wide All-Mountain Skis
JW: I know I live and ski in the Rockies now, but in college I raced all over the East Coast, so I know what the conditions and terrain look like. Knowing that, and having tested hundreds of all-mountain and all-mountain wide skis, I think that some of these wider skis can totally hack it on Eastern snow. Am I wrong?
MW: I have lots of opinions. First of all, let me just come right out and say that I'm a wide ski fan. But there are a couple of different ways to answer this question. I oppose this view that ice requires narrow skis. That is not totally accurate. I also oppose the view that conditions in New England are shitty.
Read more: The reality of East Coast snow conditions, and what skis you should be on 
I know that the East Coast Facebook commenters say that, we hear it [at Parlor]—it's the narrative. But that's such a narrow view of both the terrain and the snow conditions here. There are so many amazing pieces of skiing out here: chutes, trees, gullies, woods, high alpine in the backcountry. There's a huge variety. So this idea that it's all icy, manmade snow and narrow trails is partially true, but it doesn't paint the whole picture.
JW: Wider skis typically have more rocker and less effective edge, and that's not going to be great for ice. But a lot of wider skis now have less rocker and more traditional camber underfoot. So why wouldn't these skis handle East Coast conditions? Is it because they're just wider and you're not skiing them on edge like you would a narrower ski, and that's why you're not gripping on ice?
Learn more: Understanding camber vs. rocker ski technology
KBL: I think that's definitely part of it. When the pendulum swung back to wider skis in recent years, it did people who were trying to improve their skiing ability a disservice. We're seeing a lot more skidding now—or buttering, shall we say. But that seems perfectly acceptable now, especially with a younger audience. I even try to do that a little more just to play or not have to be on edge all the time anymore, because it's actually much easier and less combative on your knee, and just generally energy-wise. Now we're seeing the pendulum swing back to narrower skis.
MW: I strongly believe that waist width is much more determined by skier style than by snow conditions. We have a lot of clients who ski 105mm-115mm underfoot as their New England daily drivers because of the terrain they are on; or because they ski with a more upright stance; they have a wider stance; they like the leverage; they don't care about the lack of stability. At the same time, we have clients who ski the West Coast, who just cruise all day, who won't go over the low-80mm waist width.
Related: How wide is too wide for resort skis?
KBL: Don't get me wrong, there are definitely skis out there that are wider—still under 110mm I would say, more like a 106mm—that are totally bomber. The Fischer Ranger 102 FR, for example. That thing rips.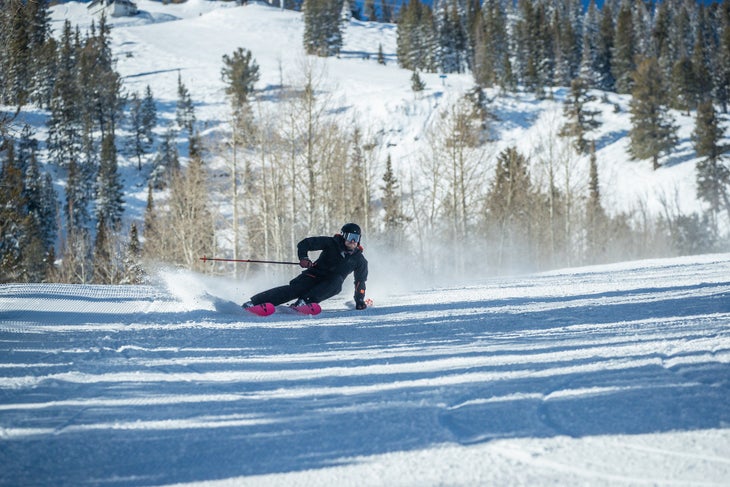 JW: Right, I disagree with the blanket statement that wide all-mountain skis can't handle East Coast conditions. I understand that wider skis are clunkier and not necessarily the best tool for the job back East. But it's a fallacy that wider all-mountain skis can't cope on hardpack and groomers. I mean, take the Völk Secret 102, Elan Ripstick 106, or Rossignol Rallybird 104 Ti…
KBL: I love the Rallybird! Those skis are fun!
JW: And that's a ski I could ski on the white ribbon of death during the early season and still have a great time. It charges. And if you know how to carve, you can definitely use that kind of ski on the East Coast. Am I wrong?
KBL: No, I agree.
JW: So is it fair to say that people who think they can't ski wider skis back East either A) haven't tried the new wider skis with bomber constructions, or B) don't keep their edges tuned, or C) don't know how to carve to get those skis to grip on ice?
MW: You used to race, I used to race—we know how to build high edge angles. If you can build high edge angles and good early pressure in your turns, the wider ski gives you more leverage in your turns and you have to do less work to make the same turn.
Related: Are you carving, or are you actually skidding your turns?
But if you don't control the top of the turn well, and you come into the turn wanting that ski to come across the hill for you, then the width works against you, because you're getting more edge angle all at once to bring you across the hill. Then the wider ski or lever may feel less stable, kick out on you, or chatter in the turn.
I can carve a 110mm reverse camber ski on hardpack, but does that mean everyone can? No. But I like it because I don't have to do as much work. The ski does all the work. But that's not true for every skier out there.
JW: So what's the perfect width all-mountain ski for Eastern skiers?
KBL: I'd say around 88mm underfoot for the intermediate skier. For advanced, I'd say maybe the mid 90s, or low 100s if it's a one-ski quiver.
MW: I don't think waist width is the end-all-be-all. Mid-80s to mid- or high 90s is a very serviceable New England frontside ski. I would argue that construction is more relevant than width. There are wide skis that are not stable, and there are wide skis that are stable.
I think what makes a good, traditional New England ski is a ski that's engineered to carve. It should have stability built into the philosophy and design of the ski. Whether it's using metal, or using a narrower overall width, or adding camber to a ski that might not otherwise have it—if you're not engineering a ski in a way to deal with more mixed snow conditions, it's probably not going to perform as well. For example, we have the Parlor Cardinal Pro 102, which is a Titanal ski with camber underfoot, early rise, and a little bit of tail rocker. That thing—you can carve it anywhere. It's built like a race ski, it's just wider. But that ski will hold up out there.
That said, if you never go off the trail, which a lot of skiers don't, and you feel like you're not skiing powder or only ski powder for such a small percentage of your days that it's not going to influence your purchasing decision, then for many skiers there are diminishing returns for going wider. 
JW: What's your daily driver back East?
KBL: It's in the 90s. I played around with different skis this season. I was loving the Völkl Kenja 88 earlier this season, just because they have a more playful personality. They've got a lot of energy. The Völkl Aura is great, but I feel like I can do just as much on the Kenjas. Then the Völkl Blaze 94 and 106 came out, and I actually love the Blaze 106 more for me—and for skiing back East, wildly enough. Once it starts snowing, so like from February on, I'm on the Blaze 106 more often than not.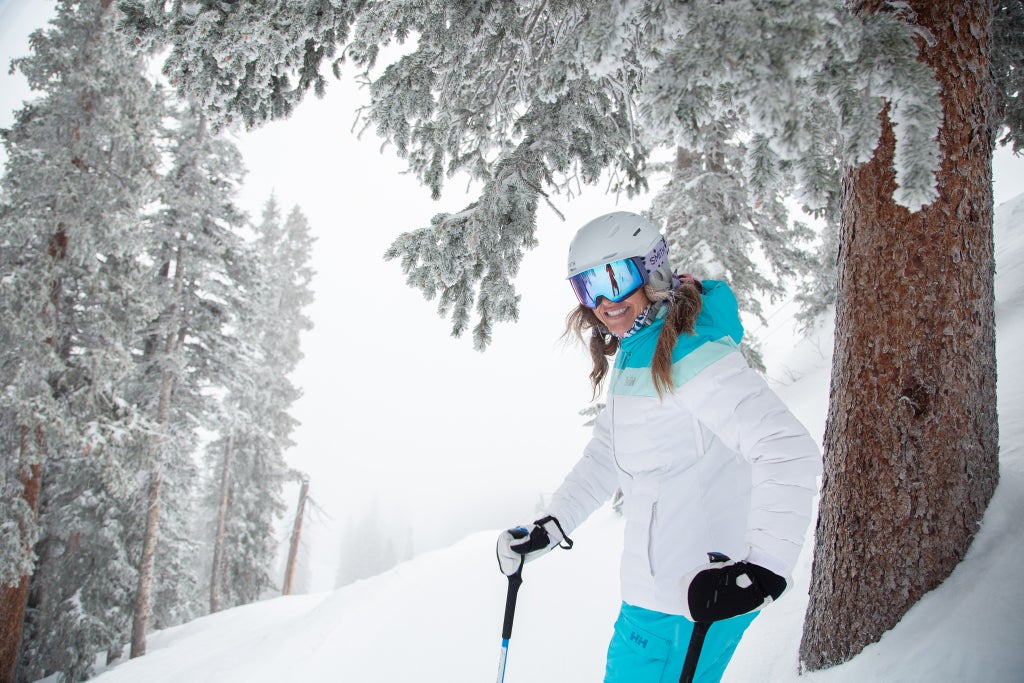 MW: If I don't know what kind of conditions I'm going to get out here, I'm skiing the Parlor Cardinal Pro 102. For all the reasons we talked about: it's got a lot of metal, it's got camber, it's still playful-ish, but if it is boilerplate, it carves turns and is super stable.
JW: These days, so many skis in the frontside and all-mountain categories are so versatile in terms of the terrain and snow conditions they can tackle, that waist width really comes down to personal preference. The narrower skis can hold their own off the groomers, and the wider ones blow my mind with how well they can carve on hardpack.
KBL: Exactly. It's like, some of us have our favorite pair of jeans. But others have a couple of favorite pairs. It's so personality-driven. Skiers just need to ask themselves: What do they really like to ski? One ski doesn't fit all.
More Content for Gear Nerds
Reality check: There's no such thing as a one-ski quiver for Rocky Mountain snow conditions
The best all-mountain skis of 2023
The best all-mountain wide skis of 2023