Olympic Skiers Inspire School Kids
If you thought an Olympic skier's job description was limited to shredding at international sporting events and posting to Instagram, you'd be wrong.
Heading out the door? Read this article on the new Outside+ app available now on iOS devices for members! Download the app.
Team for Tomorrow, a humanitarian outreach program sponsored by the United States Olympic Committee (USOC), provides athletes the opportunity to engage with their community through volunteerism, advocacy, donations and even disaster recovery support. But perhaps the most popular method of community outreach is connecting today's Olympians with tomorrow's Olympians—namely, school kids. 
Now in its tenth year running, the 2018 Team for Tomorrow ambassadors are thirteen Olympians and Paralympians from nine different sports. These includes two-time Olympic halfpipe gold medalist David Wise and 2014 Sochi slopestyle silver medalist Devin Logan. Jamie Stanton represents alpine skiing with Paralympic bronze in the men's slalom at Pyeongchang. 
In the past couple months, the 2018 Team for Tomorrow skiers have taken time to visit their hometown school districts. Their goal? To foster a love of healthy living, sport, and Olympic values at a young age. 
David Wise, who visited his alma mater Wooster High School in Reno, Nev., spoke with their ski club and the larger student body at a school-wide assembly. 
"It's really cool to be able to come back and share [my story] with these folks," Wise said. "My goal here is to inspire these kids to shoot for the stars. Find what dream they want to chase and chase it to its end."
Devin Logan, a Park City native, spent a day at a local elementary school hopping from class to class playing games with kindergarteners through second-graders. "Going into the local community is something that I really look forward to," she says. "Getting the kids excited [about sports] is a great feeling." 
Logan's goal is to impart the message that anyone can achieve greatness, whether that be in athletics, education, or both. "I hope that they part with that idea that they're as fully capable as anyone else in this world. Anyone has a fair shot. You could become the next Olympic gold medalist from Park City."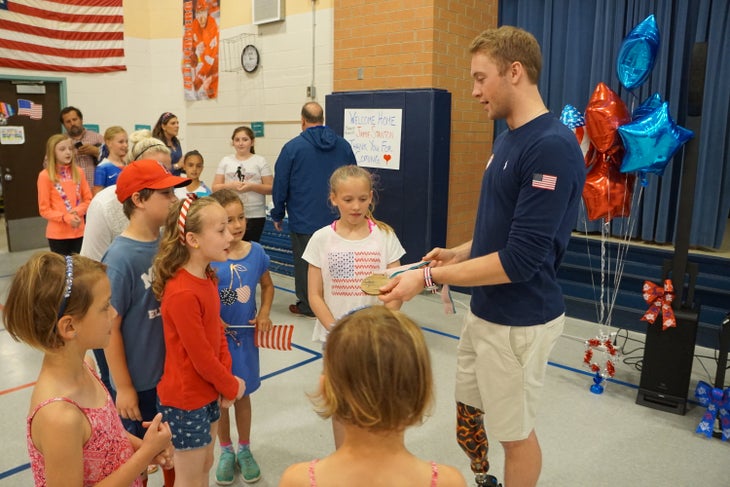 Jamie Stanton spoke at his old elementary school in Michigan. "I was so excited to go back to my elementary school to promote healthy living, sports and share my story," he said. "Elementary school kids are at the perfect age to begin creating habits of healthy living and get involved with sports. I hope my story is one that inspires kids to set their own path and strive to be the best at everything in life."