Running Shoe Gets Second Life as Ski Boot
Salomon unveils recyclable running shoe that can be reused to make ski boot shells.
Heading out the door? Read this article on the new Outside+ app available now on iOS devices for members! Download the app.
With outdoor enthusiasts becoming increasingly aware of environmental challenges and many looking for ways to reduce their carbon footprint by purchasing sustainably made gear, brands are in turn increasingly investing in sustainable practices and challenging their product design and development teams to make better gear that taxes the environment less. In other words, it's an exciting time to be in the product design and development biz within the outdoor industry. 
Salomon's new Play Minded Program, a company-wide sustainability initiative, is stepping into the sustainable innovation market. The first product to come out of the initiative is a running shoe that can be recycled and reused in the production of a ski boot shell.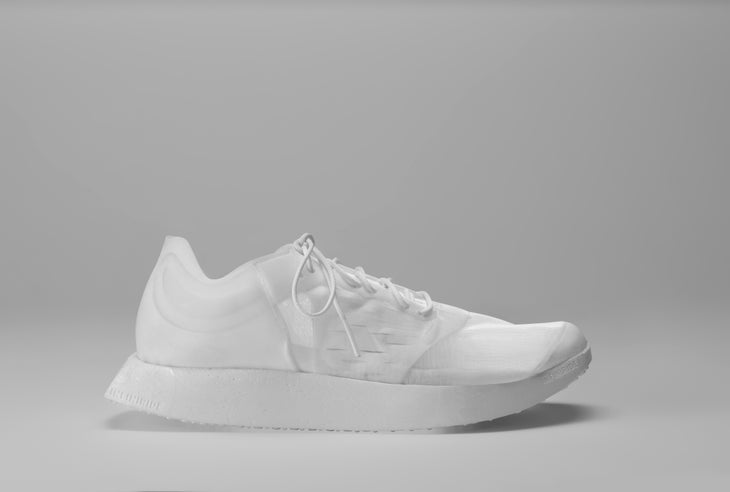 The Concept Shoe, a high-performance road running shoe made completely of thermoplastic polyurethane (TPU), can be ground down at the end of the shoe's life and recycled in the construction of Solomon's alpine ski boot shells. The shoe, unveiled in the brand's new Munich experience store this week, is the result of an 18-month effort by the Salomon design team to bring Salomon's commitment to reducing carbon emissions and extending the lifecycle of its products to fruition.
Read more: Salomon's S/Pro wins SKI Magazine Gear of the Year
"We recognize that we have to do better for the environment by creating Salomon footwear that drastically reduces its impact on the planet," said Guillaume Meyzenq, Vice President of Salomon Footwear, in a press release. "By creating this concept shoe that can be recycled into a ski boot shell, we are showing that it is possible to find alternative materials to create performance footwear."
The goal is to take the concept shoe and translate its design across Salomon running footwear for the brand's 2021 line. Other initiatives of the brand's Play Minded Program include reducing overall carbon emissions by 30 percent by 2030; eliminating perfluorinated compounds (PFCs) across all equipment categories by 2023; recycling or reusing 70 percent of Salomon's operational waste by 2025; and requiring 100 percent of the brand's top-tier materials suppliers to demonstrate compliance with Materials Compliance Programs and Restricted Substances Lists by 2025.
On that topic: More companies are making great products from recycled products
"Today's outdoor sports participants expect us to make a positive impact on the world," said Salomon President Jean-Marc Pambet in a press statement. "We haven't always discussed our programs in the areas of sustainability, but we recognize that fans of our brand and our products are eager to understand the actions we are taking." 
Salomon has not yet made clear how it plans to collect its recyclable shoes from consumers when they've reached the end of their life, or whether those who purchase Salomon's reusable footwear and recycled alpine boots will be rewarded with discounts. We can plant that seed, at least.