The Smartest Guy in the Room
Shred Optics co-founder Carlo Salmini has a degree from MIT and works with the university regularly to develop products for skiers.
Heading out the door? Read this article on the new Outside+ app available now on iOS devices for members! Download the app.
It's not often that ski industry folks show up on top-tier university blogs. But Shred Optics co-founder Carlo Salmini did just that recently on the Massachusetts Institute of Technology (MIT) newswire. The article focused on the research Salmini's working on with the MIT Sports Lab to determine which brand's goggle lens is the most effective at eliminating flat light.
An MIT alum, Salmini worked with dozens of MIT students in a lab-based scenario to test the flat light performance of a number of ski goggles from a variety of brands. Once the researchers determined which lens performed the best, they took detailed measurements of the goggle's dimensions, construction, and more. "We used some machine-learning clustering algorithms to see if there was a particular combination of characteristics in the goggles users liked," says second-year mechanical engineering major Charlotte Folinus in the MIT article.
Using both user-generated feedback as well as high-resolution photography for objective data on each lens' actual contrast and brightness, Salmini's team generated over a million data points, all for the purpose of increasing Shred Optics' ability to eliminate flat light by studying what works and what doesn't. "We're close to neutralizing the effects of flat light and we'll keep working together with the MIT Sports Lab to support the students' research in this area," says Salmini's business partner and two-time Olympic Gold Medalist Ted Ligety in the article.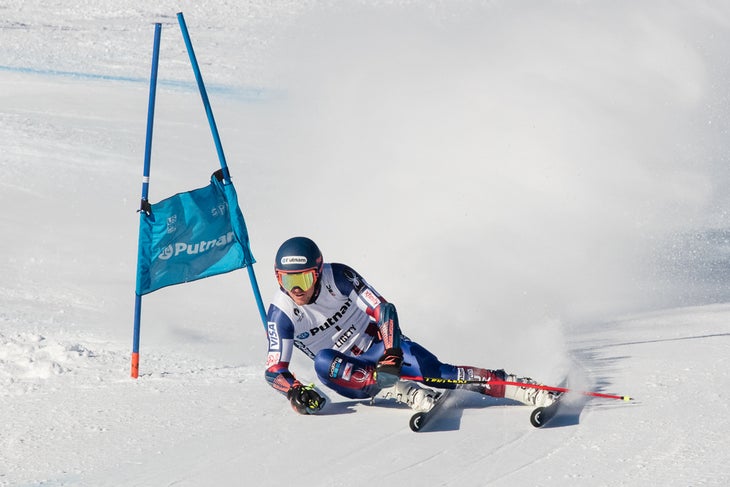 While Salmini, Ligety, and MIT haven't quite figured out the magic formula to entirely eliminate flat light on the ski hill, Shred did just launch a new line of goggles and helmets called the "Big Show" line. Using argyle accents that pay homage to some of the brand's original designs, as well as the Contrast Boosting Lens technology that SKI Magazine highlighted in the January 2018 issue, it'll be easy to spot many of Shred's Olympic athletes in PyeongChang, including Ligety and his Team USA teammate Resi Stiegler. "The way the line looks on athletes makes me feel that this time we won the Olympic kit race among the brands," Salmini said in an email.
One thing's for sure, the headgear from Shred for the 2018 Winter Olympics certainly stands out compared to the usual primary colorways of the Games. And with Shred's offering its latest products through a tight-knit network of retailers and directly through its site, you can stand out on your local ski hill now too, even if you can't get as low as Ligety on the groomers.