3 Things to Know Before Ski Touring at the Resort This Spring
Some ski areas allow uphilling, others don't. Here's what you need to consider before charging uphill.
Heading out the door? Read this article on the new Outside+ app available now on iOS devices for members! Download the app.
Looking for tips to help you get more out of your turns? Join Active Pass to access exclusive instructional videos from the best pros in the biz. It's way more affordable than a private ski lesson. 
The bullwheels are slowly grinding to a halt at ski resorts across the country and that means one thing: It's time to break out the ski touring gear. At ski areas where uphilling is permitted throughout the season but restricted to certain hours or pass holders, these regulations may fall by the wayside once the season is officially over, making the slopes fair game for ski touring.
And there's no better way to extend your ski season at the resort than by taking advantage of longer daylight to sneak in some pre- or post workday ski touring laps. Inbounds ski touring is also a great way for ski touring and backcountry newbies to practice their uphilling technique in a low-consequence environment.
For those new to the world of ski touring, professional ski instructor and ski touring fanatic Charlie MacArthur shares the basics of earning your turns at the resort.
Related: Everything you need to know to start earning your turns 
Best Practices for Ski Touring Inbounds
Check the ski area's uphilling regulations and guidelines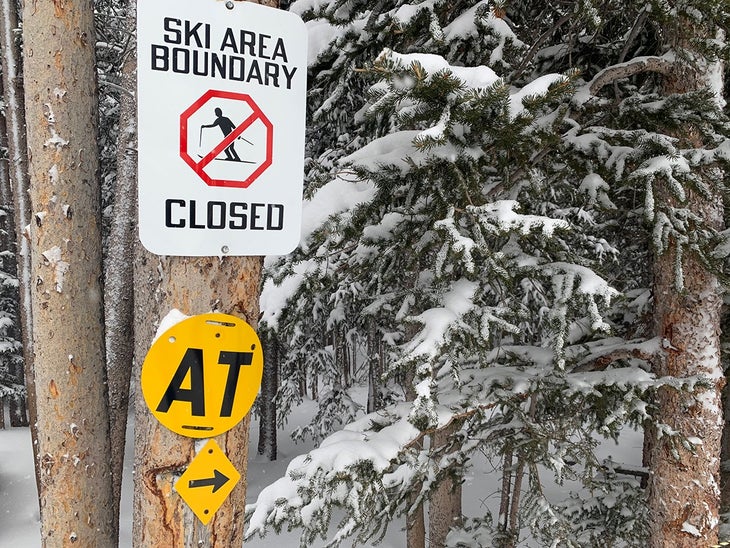 Not all ski areas allow uphill access, and those that do may have specific guidelines and regulations in place. A number of ski areas allow ski touring only outside of operating hours (typically 8 a.m. to 4 p.m.), while others don't restrict access as long as ski tourers stick to designated routes.
Some ski areas require you to purchase an uphilling ticket or pass, while others just require you to fill out a liability waiver before heading up the slopes. And some ski areas located on National Forest Service land that do permit uphilling during the regular ski season do not allow access after the resort closes for the season.
So be sure to check your local ski area's uphilling policy before slapping on those skins and charging uphill. Most ski areas post their specific ski touring guidelines on their websites.
Choose your uphill route wisely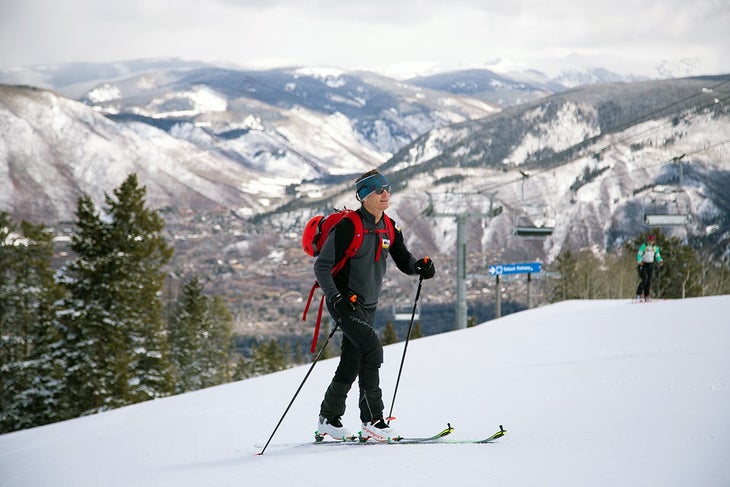 Most ski areas that allow uphill access generally post a designated ski touring route, with signs pointing skiers in the right direction. If your ski area does have a designated route, you're obliged to stick to it when traveling uphill, especially during operational hours.
Outside of operational hours, you may not have to stick that route depending on your ski area's guidelines. But it's usually a good idea to follow posted routes even after the lifts stop turning. There's a lot of mountain ops work that happens on the slopes after hours and even after a resort's season has officially ended, and you don't want to be caught unaware by a snowcat or snowmobile.
For ski areas that allow ski touring but don't have designated uphill routes, make your way uphill on low-traffic and low-angle slopes. If you are ski touring inbounds during the regular season, don't pick the most popular run down to the base area as your uphilling route. And best to avoid charging up a steep, black-diamond run—it may be the most direct path to the top, but it's hardly the path of least resistance. It may take you longer to skin up meandering low-angle slopes, but you'll conserve your energy for the fun part: the downhill.
Related: Improve your ski touring technique with these pro tips
Be prepared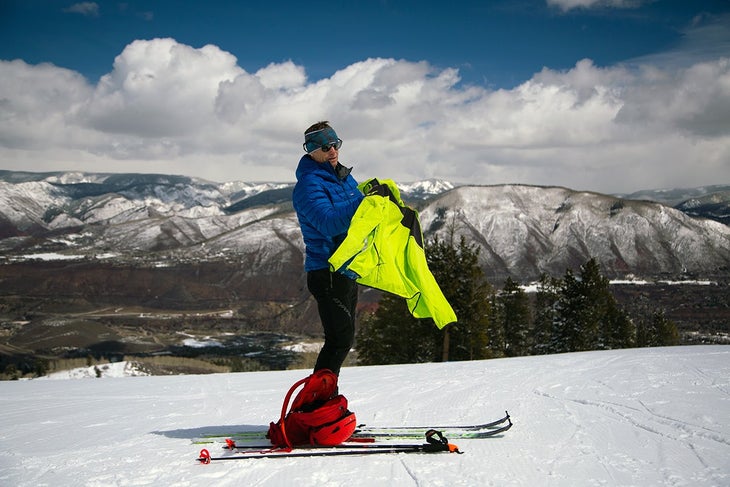 Ski touring inbounds differs from backcountry skiing in that you're largely traveling in a controlled environment. Slopes are typically groomed, natural obstacles are well marked, and ski patrol performs avalanche mitigation work on steep, prone terrain. But just because you're ski touring in a more controlled environment doesn't mean things can't go wrong. Bindings can break, skins can ice up, and weather and light conditions can change just as they do in the backcountry.
Related: Gear made for fast and light ski touring laps 
So when ski touring inbounds, be prepared with extra layers, plenty of hydration, snacks, a basic toolkit (a multitool like a Leatherman or Swiss Army knife usually does the trick), and a headlamp with extra batteries if you're hitting the skin track after work.
Watch: Resort Ski Touring Basics