Shiffrin, Hirscher Reign Supreme in Zagreb
The best female and male slalom racers in the world were crowned Snow Queen and King in Croatia.
Heading out the door? Read this article on the new Outside+ app available now on iOS devices for members! Download the app.
American Mikaela Shiffrin and Austrian Marcel Hirscher—the best female and male slalom skiers in the world—had reputations to uphold at the World Cup slalom race in Zagreb, Croatia on January 5 and 6. Both racers are currently ranked number 1 on the overall World Cup leader board and lead the rankings in the slalom discipline, and both have multiple victories on Zagreb's slalom track under their belts. And true to form, Shiffrin and Hirscher lived up to their reputations, finishing on top of the podium, again.
Zagreb Women's Slalom
Mikaela Shiffrin just keeps one-upping herself. On January 5 she won another World Cup slalom race in Zagreb, Croatia—her seventh consecutive slalom win and 36th career slalom victory. Though she had to settle for second behind her fierce rival Petra Vlhova of Slovakia in last week's Oslo City Event, Shiffrin pulled ahead of Vlhova by an astounding 1.25 seconds in Zagreb's slalom. The other usual suspects—Wendy Holdener of Switzerland and Frida Hansdotter of Sweden—rounded out the top four in third and fourth place.
"There's always some rivalry," Shiffrin said after the race. "I have it with Petra, I have it with Wendy and with Frida. [In] different races, those are the three girls who are most often right there. Especially Petra—she's taken her skiing to a new level. It's disciplined, it's aggressive, it's fast, it's also really smart. And I think you could see [that] in Oslo," said Shiffrin. "It made me refocus for this race and do my very best skiing."
Read more: Vlhova, Schwarz Win Oslo City Event
A lot of focus was required by the tricky course in Zagreb. After having to ski on slalom courses with less than ideal conditions—snow that was too soft due to either warm temperatures or fresh snowfall—throughout this season, the ladies finally had true racing conditions with cold and hard snow that made for an icy track. These conditions suited those racers who are able to let their skis run on edge and trust their outside ski. In other words, conditions tailored to Shiffrin's, Vlhova's, and Holdener's style.
This became apparent in the first run, when a huge margin of 0.75 seconds separated the top three racers—Shiffrin, Holdener, and Vlhova, respectively—from the rest of the pack. In fact, Shiffrin finished her first run 1.15 seconds ahead of Holdener.
It was unusual to find Vlhova, Shiffrin's fiercest slalom rival, in third after the first run, 1.34 seconds behind Shiffrin. All season long, Vlhova has finished only hundredths of a second behind Shiffrin in slalom. But in the second run, Vlhova corrected this anomaly by finishing with the fastest time, 0.09 seconds faster than Shiffrin's second run, enough to move her up from third to second overall, but not enough to take the win from Shiffrin. 
The American, who despite launching off the track's tricky roller halfway down the course and nearly missing a gate, skied another impressive second run, finishing with the fastest overall time 1.25 seconds ahead of Vlhova, and 1.75 seconds ahead of Holdener. Hansdotter, who sat in fifth after the first run, was able to move up to fourth after her second run.
Shiffrin's win in Zagreb marks her seventh consecutive slalom victory, and she has now won 11 of the last 12 slalom races in the World Cup. This winning streak in slalom now equals the winning run Shiffrin set in 2016.
"I'm not counting the streak," said Shiffrin following her latest win. "But I have to say that my whole team does a really great job. To be at this level and always pushing to be faster and stay in the top, for sure it's difficult to keep that form or to even get better. And I think my coaches and everybody on my team does a really good job to help me focus again after good races, to push harder, to be more motivated… so that I can stay at the top. You know, I'm not up there alone, there are a lot of people who make that happen." 
With this win, Shiffrin extends her overall World Cup lead over Vlhova by 466 points. Shiffrin and Vlhova will next face off in the slalom in Flachau, Austria on January 8. View the full women's slalom results from Croatia here.
In related news, Shiffrin is currently in the running for the U.S. Olympic Committee's Best of December for Team USA. Voting ends on midnight on Tuesday, January 8, 2019. You can vote for Shiffrin here.
Hirscher Comes Back to be Crowned Snow King
Austrian Marcel Hirscher had a rough race on New Year's Day, when he straddled a gate in Oslo and lost to Great Britain's Dave Ryding in the quarter final of the parallel city event. Five days later, Hirscher returned to his winning ways in Zagreb, taking his fifth Snow King title in the Croatian capital city.
The Austrian's 64th FIS World Cup win—and his 30th in the slalom—didn't come easy. After the first run, Hirscher sat in second place, 0.37 seconds behind fellow countryman Marco Schwartz. After winning the Oslo city event, the 23-year old Schwartz looked primed to win two in a row in Zagreb until he made a serious error and did not finish his second run.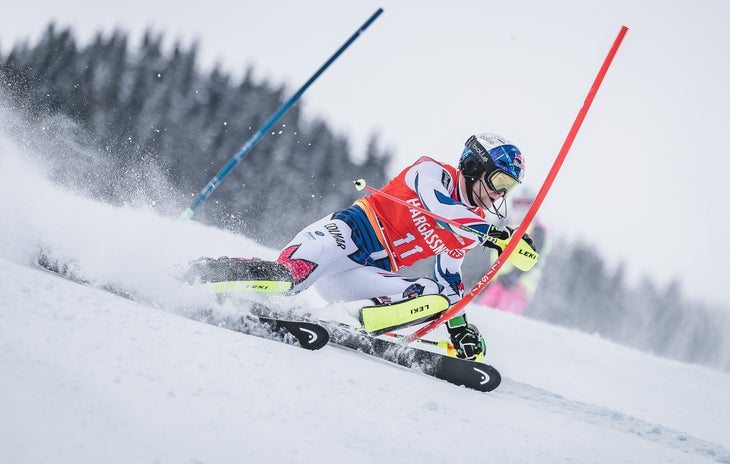 France's Alexis Pinturault, who has been struggling to ski strong second runs this season, finally had a breakthrough in Zagreb to earn second place and his first FIS World Cup podium since 2014. The Red Bull athlete skied fast, smooth, and aggressively throughout his second run, crossing the finish line with a 0.60 second advantage over fellow French team member Clement Noel. Pinturault's lead was just enough to edge out Austrian Manuel Feller, who finished 0.02 seconds behind Pinturault's combined time. Feller found himself in third overall, with Noel finishing fourth.
Skiing second to last, Hirscher put on a show during his second run. He made a number of errors throughout, though he countered those with some incredibly smooth sections, in particular the second combination mid-course, and ultimately finished with a 0.60 second advantage over Pintarault. When Schwartz failed to finish his second run, Hirscher's fifth Snow King title was secure.
"It was definitely not one of my easiest victories but at then end of the day, I'm super, super happy," Hirscher said according toe Red Bull after the race. "It was quite a hardworking day. The feeling is a little weird with these changing conditions this year. It's different from the other years and it's hard to find the right set-up for each race. It's great to ski in front of this amazing crowd and to stay and live in the city. There are always perfect conditions here."
Mark Engle (Salt Lake City, Utah) was the only American to compete in Zagreb. Although he completed his first descent, it was not fast enough to qualify for the second run. You can find all of the men's results from Croatia here.
The men will race slalom and giant slalom next weekend in Adelboden, Switzerland. Hirscher will go into the races with 756 FIS World Cup points, which is 335 more than Norway's Henrik Kristoffersen, who is in second place in the points standing with 421.
Jenny Wiegand and Jon Jay contributed to reporting this story.