Taos Ski Valley, N.M.
Discover the expert terrain in New Mexico.
Photo: Courtesy of Taos Ski Valley
Heading out the door? Read this article on the new Outside+ app available now on iOS devices for members! Download the app.
This special corner of New Mexico has seen significant improvements and investments over the past decade, and, according to readers, that work is certainly paying off. With first-place rankings in both Charm and Overall Satisfaction, Taos Ski Valley has succeeded in becoming a welcoming world-class ski resort that will put a smile on every visitor's face. Ranked No. 2 for Challenge, the steep terrain of Kachina Peak still gets as rowdy as ever—especially during the long-running Freeride World Qualifier 4-Star event—but improvements throughout the rest of the ski area have made things more friendly for families and intermediate skiers as well. "Thirty years ago it was all about hiking the ridge and pounding down Longhorn," comments one reader. "Now skiing and spending time with grown kids here is spectacular." 
The ski resort's most noticeable investment is the base area revitalization, including the Blake Hotel. The accommodations blend authentic New Mexican culture with a high level of comfort and class, best exemplified by the original Georgia O'Keefe art that decorates the hallways and the delicious green chile-infused options available at the 192 Restaurant. The soon-to-be-open Blake Residences build on the success of the hotel and will continue to add a number of modern updates to the main base village. While there could be a few more options for Nightlife (No. 22), Taos remains a place that puts skiing first and everything else second.
Those looking for less posh and more powder will still enjoy the numerous storms that deliver light and dry snowfall all season long, and the unique chalky snow provides strong edge grip during dry spells. Taos' windblown fluff is as good as it gets, too, and easy to find from the top of Kachina Peak. Just point 'em towards the steep chutes under the very visible cornices between the summit and Cabin Chute. Kachina Chair closed? Earn your turns and hike to Highline Ridge or West Basin Ridge for more steeps and tree runs. Don't feel like hiking? Traverse to Hunziker Bowl for easy-to-access adventure. "Huge expert skiing in a small compact package," says one reader. "After more than 45 years of skiing at Taos, there remain numerous expert slopes I have yet to explore." — Jon Jay
2021 Reader Ranking of Taos Ski Valley: No. 4 in the West
| | | | |
| --- | --- | --- | --- |
| Annual Snowfall | Acres | Lifts | Trails |
| 300″ | 1294 | 13 | 110 |
OFF-HILL RESTAURANT: The authentic Euro grub at The Bavarian is a welcome change from green-chile-on-everything, and is one of the spots where the influence of the Alps can be distinctly tasted. Call to find out which day Fondue Night falls on during your visit, and don't leave without sampling the authentic Bavarian brews. 
BRAGGING RIGHTS: Ski the infamous moguls of Al's Run, top to bottom, without stopping. Extra points if you maintain a mostly straight zipper line. Then do it again until you can't walk. Crawl into Tim's Stray Dog Cantina for the best margarita you'll ever have accompanied by some delicious chips and guac. 
DOWN-DAY ACTIVITY: Check out the Taos Pueblo (a UNESCO World Heritage site), and the 200-year-old San Francisco de Asís church. Want a good view of the dramatic landscape framed by the rugged Sangre de Christo Mountains? Drive out to the Rio Grande Gorge Bridge, the fifth-highest bridge in America.
Go back to No. 5 in the West: Aspen Snowmass, Colo.

Read about No. 3 in the West: Whitefish Mountain Resort, Mont.
Taos Ski Valley's 2020 SKI Magazine Reader Resort Survey Rank: 12th in the West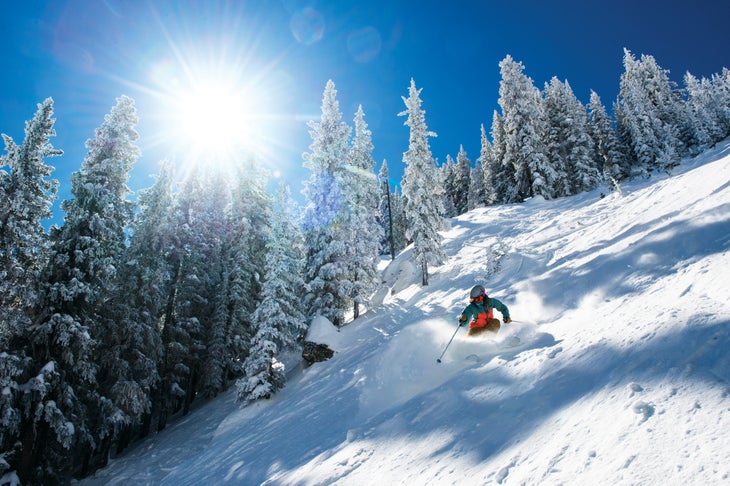 This year's no. 1 resort for Challenge and the new home of our SKI Test, Taos was a mega-mover for 2020, jumping up 12 spots since the last time we ranked resorts in 2017. The pride of Taos is towering Kachina Peak, which features countless steep bowls, big cliff s, and tight lines that loom over the rest of the ski area. If the Kachina Lift is closed, skiers hungry for expert terrain will be satisfied by the chutes and steeps off Highline and West Basin Ridges, or by making sure they earn their margaritas by connecting as many zipper lines as possible down the seemingly endless bumps of Al's Run, which practically extends all the way to the door of Tim's Stray Dog Cantina. 
Ranking No. 3 this season for Charm and No. 4 for Local Flavor, Taos' strong Northern New Mexico vibes are well appreciated by readers. This fall, Taos worked with local artists to paint about a dozen of the features in Maxie's Terrain Park off Lift 7. You don't have to know how to slide rails in order to enjoy the cool New Mexican art, just be courteous to other park users before stopping to snap that selfie, which you'll definitely want to do. 
At the base, the lovely Blake Hotel recently broke ground for The Blake Residences, opening in Fall 2020, meaning there will be some reorganization in the village this year, but the on-mountain experience promises to be better than ever. Taos has invested in improving its snowmaking for 2019-20 to create a better top-to-bottom skiing experience on Lift 1, which should alleviate some reader concerns about low snow years. Plus, thanks to recent updates of Lift 1 and the remodeled, inviting Phoenix Grill near Lift 4, skiers are able to spread out across the mountain more easily on the busier days, something visitors especially appreciated. "Taos is a gem like no other!" — Jon Jay
DINNER PICK: Make dinner reservations at The Bavarian to sprinkle a little bit of authentic southern German culture on your ski vacation.
OFF-THE-MAP TRAIL: The Wild West Glades are a bit of a trek to get to off West Basin Ridge, but, thanks to recent trail work, totally worth it.
Read More:
2020 Resort Guide: Overall West

2020 Resort Guide: Skier's Mountains

2020 Resort Guide: All-Around Vacation
SKI Magazine's 2019 Review of Taos Ski Valley, N.M.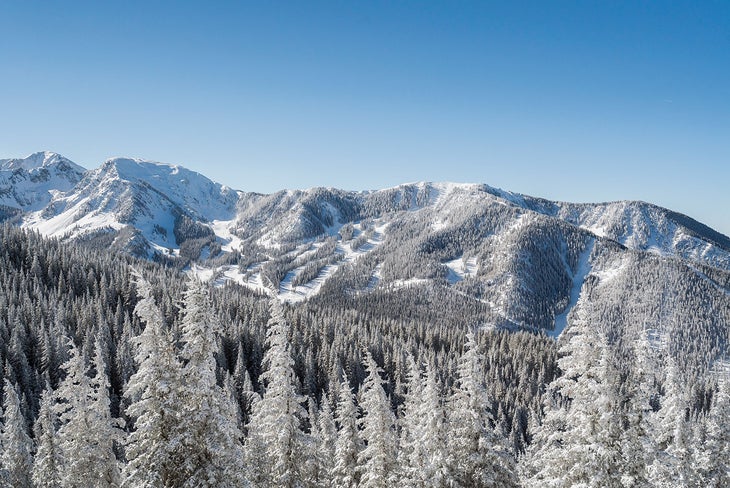 Change has come to Taos Ski Valley. In 2013, hedge-fund billionaire Louis Bacon bought the family-run ski area from the descendants of founder Ernie Blake, with a plan to invest substantial resources into modernizing Taos. A chairlift up the iconic, hikers-only Kachina Peak arrived the next year, followed by a redesigned base area and the opening of The Blake, a new luxury hotel at the resort's base. Those upgrades were much needed, and so far, visitors are impressed, rewarding the ski area with high marks in Overall Satisfaction, Charm, Value, and Local Flavor.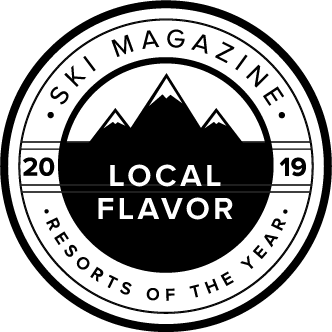 Indeed, the new ownership seems determined to maintain the resort's unique Old-World-meets-New-Mexico vibe while it puts new sheen on some old veneers. The small resort also goes big in the Challenge department, boasting 74 black or double-black runs (not counting all the sweet lines in between), which include a phenomenal diversity of patrolled, hikers-only tree- and chute-skiing. Taos is one of those rare, special spots where phenomenal skiing intersects brilliantly with the sport's European heritage, and injected, this year, with the buzz of American entrepreneurship. – Hannah Nordhaus
New in 2019
This season, a brand new high-speed quad—the resort's first express lift—will replace Chairs 1 and 5, flying directly up Al's Run and cutting ride times to under five minutes.
Come to Taos Ski Valley for the…
CHALLENGE There's so much of it. Taos is known for its uninterrupted fall-line skiing. May we suggest: the tight trees on North American; Pierre's, a super-narrow chute; and Stauffenberg, a hike-to area in West Ridge Basin, for scare-yourself steeps.
CHARM Do visit the historic town of Taos, 18 miles from the ski hill, packed with art galleries, cafes, and shops, plus the UNESCO Taos Pueblo site.
ON-MOUNTAIN EATS The beloved Bavarian Lodge sports a new, larger deck on which to snack on ripped-from-Bavaria bratwurst and huge mugs of German beer.
Read More:
Resorts of the Year 2019: Awards in the West
Resorts of the Year: Southwest
Resorts of the Year: West
Mountain Collective Resorts
Ikon Pass Resorts
2020 Resort Guide West: Skier's Mountains