Ikon Ski and Music Tour
Musicians Pam and Dan Rosenthal bring their unique sound to Ikon Pass resorts throughout North America this season.
Heading out the door? Read this article on the new Outside+ app available now on iOS devices for members! Download the app.
There's nothing better than coming off the mountain, unbuckling your boots, grabbing a cold beer, and settling into a comfy chair. OK, maybe one thing: listening to live music while doing all of the above. If this sounds like something you'd enjoy, head to pretty much any Ikon Pass resorts to watch Pam and Dan Rosenthal show off their passion for music and the community.
"This trip incorporates two things I love: skiing and music," says Dan. This ski season marks his 40th year as a ski pro, and Pam and Dan will be celebrating their 30th anniversary on this tour. For Pam this trip is about celebrating life and living it to the fullest.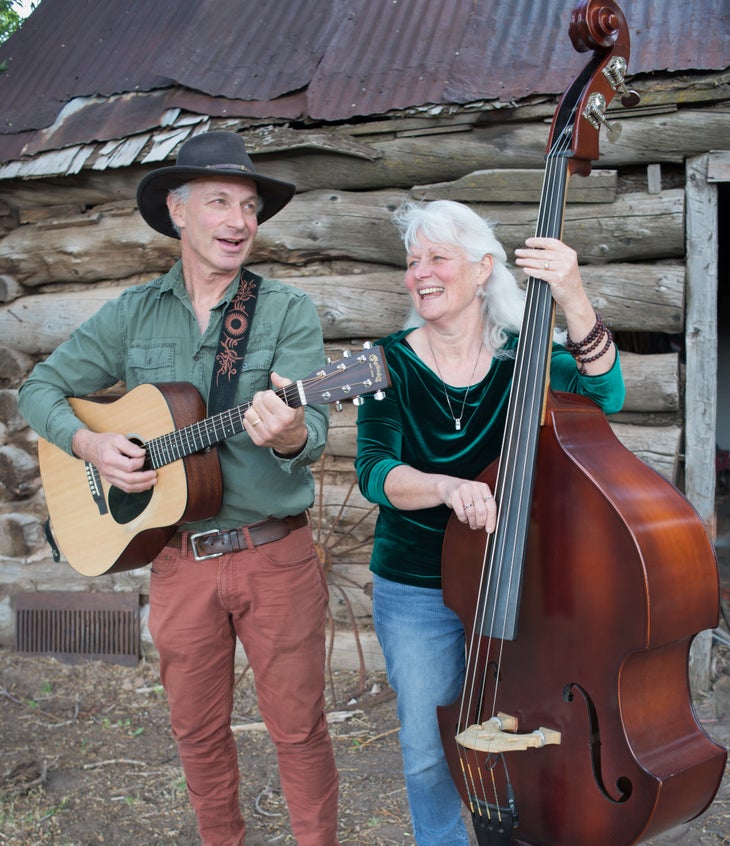 Pam and Dan have played in many genres over the past 18 years including blues, original indie, pop, and classic rock. However, "songwriting and our love for folk and country music sparked us to create our duo," says the couple. 
While Pam and Dan have played in or near ski towns for years, this will be the pair's first major tour. "As new empty nesters, this idea of skiing all of the North American Ikon resorts and playing music has become a fantasy/adventure that is quickly becoming a reality," Dan says. 
On this tour (which has no official affiliation with the Ikon Pass or parent company Alterra Mountain Co.), the pair is stoked to play some folk and country music, with some "old hippie" tunes sprinkled in. They have combined their original songs with well-loved cover tunes, going with the vibe of the venue and audience they are playing for. 
As part of the tour, the Rosenthals plan to promote climate action and sustainability. Their goal is to inspire their audiences to take some action. 
"The state of our planet's health is a pressing issue," says Dan. "The human race cannot continue to live and consume at the current rate. We are jeopardizing our children's future and it is time to change our ways." 
The Ikon Pass has partnered with Protect Our Winters (POW) to further climate change education and advocacy. Their purpose is to support industry-led climate initiatives towards POW's three priorities of setting an economy-wide price on carbon, transitioning to a clean-energy economy, and utilizing innovative transit solutions to minimize greenhouse gas emissions. POW and Alterra will also be hosting discussions on climate change at many Ikon resorts this winter. 
Pam and Dan hope that POW and Ikon's partnership will really get people thinking about becoming part of the solution this winter. And if listening to some good tunes at your favorite ski resorts will further the cause, then we're in. 
Pam and Dan Ikon Ski and Music Tour
Nov 17: Eldora Mountain, Colo.
Nov 27-28: Snowshoe Mountain, W.Va.
Dec 2-3: Killington, Vt.
Dec 4-5: Stratton, Vt.
Dec 6: Magic Mountain, Vt.
Dec 7-8: Sugarbush, Vt.
Dec 10: Loon Mountain, N.H.
Dec 11-12: Sunday River, Maine
Dec 13-14: Sugarloaf, Maine
Dec 16-18: Mont Tremblant, Quebec
Dec 20: Blue Mountain, Ontario
Dec 22: Boyne Highlands, Mich.
Dec 23:Boyne Mountain, Mich.
Dec 27 -Jan 6: Aspen Snowmass, Colo.
Jan 8-10: Snowbird, Utah
Jan 11- 13: Alta, Utah
Jan 14-16: Brighton, Utah
Jan 17-18: Solitude Mountain, Utah
Jan 19-22: Deer Valley, Utah
Jan 24-30: Jackson Hole, Wyo.
Feb 1-5: Big Sky, Mont.
Feb 7-13: SkiBig3, Alberta
Feb 15-23: Revelstoke, B.C.
Feb 25-27: Cypress Bowl, B.C.
March 2-3: Crystal Mountain, Wash. 
March 4-6: Summit at Snoqualmie, Wash.
March 9-11: Squaw Valley, Calif.
March 12-14: Alpine Meadows, Calif.
March 16-18: Mammoth Mountain, Calif.
March 19-20: June Mountain, Calif.
March 22-25: Big Bear Mountain, Calif.
March 28-April 1: Taos Ski Valley, N.M.
April 3-5: Copper Mountain, Colo.
April 6-8: Winter Park, Colo.
April 9-11: Steamboat Springs, Colo.
April 12- 13: Aspen Snowmass, Colo.