Smugglers' Notch, Vt.
Authentic Vermont skiing with amazing terrain and family forward service.
Heading out the door? Read this article on the new Outside+ app available now on iOS devices for members! Download the app.
Phew. Another year passes—not a very good one, but Smuggs remains defiantly independent. Whatever super-duper pass you've got, it's worthless here, and that's just how Smuggs lovers like it. Running a ski resort is a difficult and risky business, but owner Bill Stritzler and his family make it look easy. While other resorts out-competed each other in the race to high overhead, Smuggs has kept it simple, focusing on families, with cozy well-equipped condos, ideal learning terrain, a ski school that obviously enjoys hanging out with your kids while you go get after it, and no-detail-too-small service. Harried parents couldn't be more grateful. 
The sheer volume of survey responses Smuggs fans submit, never mind the tenor, speaks to their loyalty. Diehard Smugglers love to report how many years they've been skiing there—for decades and multiple generations in countless cases. And all that loyalty informs the rankings, which are especially stupendous this year: Smuggs cracks the Top 5 in all but four categories. And as usual, even its biggest weakness—No. 20 for Lifts—is a strength. "Lift system is like 'Antiques Roadshow'," quips one reader. But that's a compliment. "If you don't like fixed double chairlifts, don't come here," another adds. "We love them, and don't want to hear about how you don't!" (You have to wonder if Smuggs is past the point of ever installing a high-speed lift; the revolt might be violent.) 
Smuggs remains a dichotomy, as beloved by tourist families as it is by diehard locals, thanks to its ideally segregated terrain: easy-peasy over by the village on Morse Mountain, cruiser heaven on Sterling, and in between, majestic Madonna, truly a test for any expert. And slow lifts? More time to rest the legs, deeper conversations, and less crowded trails. "No elitist energy." "Feels human scale and comfortable, like ski areas used to be." "Local vibe is unpretentious, and terrain is unsurpassed. Smuggs is a skiers' mountain—for skiers of all ages and abilities, that is." — Joe Cutts
2021 Reader Resort Ranking for Smugglers' Notch: No. 1 in the East
| | | | |
| --- | --- | --- | --- |
| Average Snowfall | Acres | Lifts | Trails |
| 276″ | 1,000 | 8 | 78 |
OFF-THE-MAP TRAIL: The Back Bowls live up to the hype: countless tree lines that descend onto the Notch Road. Not officially part of Smuggs (they're on State Forest land), they amount to a ski area in themselves—an area that's all tree skiing. Slow lifts take the pressure off. 
FAMILY EXPERIENCE: There's good reason Smuggs is so popular with families. They love the instructors, the off-hill activities, and perhaps above all, the cute mascots, whose goofy après reindeer games are irresistible. Snap pictures of the kids with Mogul Mouse at the base area for pure holiday-card gold. 
LOCAL TIP: Even if you're not a ripper, don't miss a ride on Madonna 1 to the summit for the amazing view. There's an easy way down.
Go back to No. 2 in the East: Tremblant, Qué.

Go way back to the beginning of the 2021 Reader Rankings: No. 20 in the East – Loon Mountain, N.H.
Smugglers' Notch 2020 SKI Magazine Reader Resort Survey Rank: 2nd in the East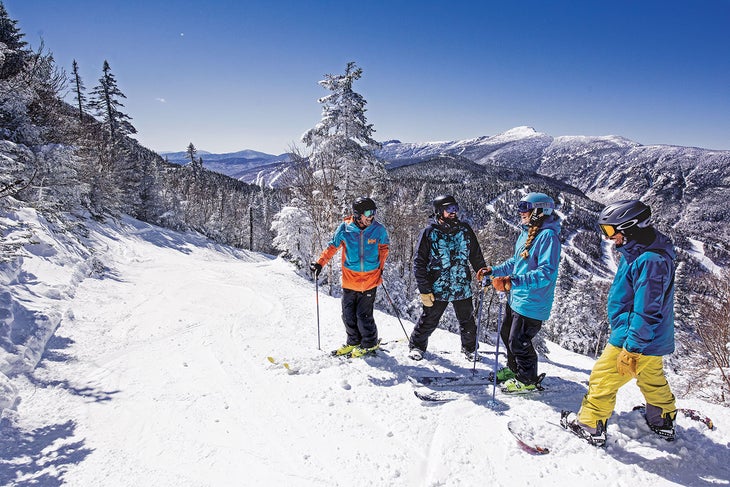 It's a segregated society at Smuggs, and that works just fine. How else could vacationing families and adrenaline-hog local rippers co-exist in such peaceful harmony. Over here you've got self-contained Morse Mountain, with its family-friendly condos, kid-centric activities, and gentle slopes all leading back to home base, perfect for launching little learners on a lifetime love of skiing. And over here, the fearsome steeps of Madonna Mountain, along with—out in the famous Back Bowls—some of the East's best and most expansive tree skiing. 
You might see some mingling of the two species here and there, but for the most part, neither has to worry about the presence of the other. That's how a place can rank high in shut-up-and-ski criteria like Terrain (No. 2), Snow (No. 3), and Challenge (No. 3), yet still please visitors in categories like Service (No. 1), Lodging (No. 2), and Charm (No. 3). 
Once again, Smuggs ranks No. 1 in the East for families, and the boot-up-at-the-car crowd over in ski-in/ski-out Lot 1 is like, "Huh, really?" Remember, there's still not a single high-speed lift on the hill. The Madonna 1 double, for instance, clocks in at a quad-rejuvenating 15-plus minutes. It's part of the charm, as is non-conglomerate ownership and No. 4-ranked scenery—all adding up to Smuggs's No. 1 ranking in Local Flavor and No. 2 for both Overall Satisfaction and Value. "Cliffs, chutes, trees … still some of the most underrated terrain out there," says one Smuggs lifer. Another: "A place that will reconnect you with your family 100 percent." That's the Smuggs dichotomy. And both readers would agree with a third, who says, "Don't ever change this place!" — Joe Cutts
LOCAL TIP: Even if you're staying in one of those really nice condos over at Morse, you might want to pack the car and make Lot 1 your base. It edges right up to the slopes and hums with awesome tailgate après action most days.
DINNER PICK: As one reader rightly suggests, check out the pub at Smugglers' Notch Inn down in Jefferson Village: "Locals' bar. Food is phenomenal, drinks are strong, plenty of friends to be made."
MANDATORY RUN: Ride the Madonna 1 double, a slow, nostalgic, and historic lift that accesses killer terrain. Novices welcome— there's an easy way down from the summit.
Read More
SKI Magazine's 2019 Review of Smugglers' Notch, Vermont
It's time to stop referring to Smuggler's Notch as "underrated." Everyone knows it's the East's original family-friendly resort, with activities, accommodations, and a genuine top-down desire to make parents' lives easier. In the age of conglomerates and real estate investment trusts, everyone loves the fact that it's still independently owned, reasonably priced, and locally controlled. And everyone knows it's a place that doesn't have a single high-speed lift. But no one gripes, and many prefer the leisurely, restful ride up knowing there'll be fewer skiers on the trails. 
As for what might still be underrated, it's the breadth and real-Vermont   of Smuggs's expert terrain, from the rowdy steeps of Madonna to the innumerable tree shots of the out-of-bounds Birthday Bowls. Even terminal intermediates can brag that they've skied from the summit of fearsome Madonna. The Madonna 1 chair offers a sobering view of Smuggs' expert terrain on the way up, one of the East's best views from the top, and an easy way down on Chilcoot. 
Best of all, beginner and expert areas are so effectively sequestered from each other that everyone's happy. Readers from both camps rave about Smugg's authentic Vermont charm paired with amazing snow, minimal crowds and terrain for everyone. – Joe Cutts
2019 Updates:
Kids' Club swag bags are presented upon check-in to groms 12 and under staying at a Smugglers' property. Also: Fat-biking joins the robust list of off-slope activities on tap at the resort this season.
Come to Smugglers' Notch for the…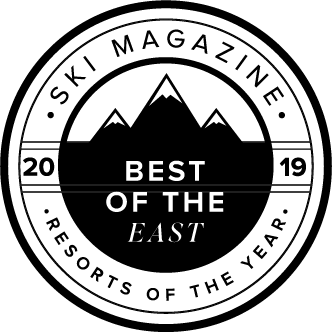 TRAVEL EASE Get to the mountain early and snag a spot in Smugglers' famous Lot 1. It's ski-in/ski-out, with easy access to and from the Sterling and Madonna lifts. On nice afternoons it's a hoppin' tailgate scene.
TERRAIN VARIETY By the numbers: 78 trails; 19 percent green, 50 percent blue, 31 percent black and double-black. And that's not counting the 750 acres of glades. 
LOCAL FLAVOR Beer? Wine? Whiskey? Head out to nearby Smugglers' Notch Distillery (bourbons and whiskeys made with Vermont spring water) or Boyden Valley Winery (Vermont ice wine and local cider).
FAMILY ACTIVITY The whole place is one big family activity: skating, swimming, tubing, sugar on snow, and more.
BRAGGING RIGHTS Is there really such a thing as a triple black diamond? Pure marketing hype? Try Black Hole, then decide for yourself.     
MANDATORY RUN Cruise FIS top to bottom and imagine a time when FIS-sanctioned downhills were run on such narrow, winding trails.
BEST VIEW For anyone who can handle a blue run, the top of Madonna serves up what might be the best panorama of any Eastern ski area.
APRÈS SPOT Sneak off campus for a cold one at Brewster River Pub and Brewery. They make their own and offer a nice selection of other Vermont brews.
Read more
Resorts of the Year 2019: Awards in the East
Resorts of the Year: Vermont
Resorts of the Year: East