Tremblant, Qué.
European style skiing with delicious food and divine slopes.
Heading out the door? Read this article on the new Outside+ app available now on iOS devices for members! Download the app.
Ohh La La! Tremblant may be in French-speaking Canada, but it adheres to the Cajun French motto: Laissez le bon temps rouler. The good times roll out each morning on the mountain, pick up speed when the lifts close (No. 2 in Après), and roll on well into the night (No. 2 in Nightlife). Readers love that Tremblant delivers "a European ski vacation without the travel hassle" and claim "this place has it all." Once you arrive in the sprawling, pedestrian base village, there's no reason to leave. (Again, that's if the borders open in time for ski season.) That all includes a vast array of accommodations (No. 2 in Lodging) and, this being Québec, fabulous feasting (No. 2 in Dining and in On-Mountain Food), as well as abundant off-slope fun ranging from an indoor waterpark to fat-tire biking, building a bear to creating your own T-shirt (No. 3 in Down-Day Activities). 
A cabriolet connects the village at both ends, a plus for tired legs. Two gondolas and a high-speed quad make getting on the mountain—and to the casino—easy. Because the upper lifts all unload on the same peak, "once you take the gondola up, you can stay at the top all day." Doing so makes it possible to avoid long weekend and holiday lines at the base, especially during Québec and Ontario school vacation weeks. Thanks to the trail variety off each lift, it's "easy for a family with members who have different abilities to ski the same lift." 
Savvy skiers know that if the weather, snow conditions, or lines aren't favorable on one of the mountain's faces, there are three others to explore. Two terrain parks on the South Side and one on the North Side entertain tricksters. Tree skiers and powder fiends favor the North Side and The Edge. On a frigid day, head for the sunny side, Versant Soleil, also home to Le Refuge du Trappeur, a rustic, tucked-away cabin where you can warm up by a woodstove savoring soups, sandwiches, and warming beverages. Consider spiking that chocolate chaud or café with a shot to keep the good times rolling. — Hilary Nangle
2021 Reader Ranking of Tremblant: No. 2 in the East
| | | | |
| --- | --- | --- | --- |
| Average Snowfall | Acres | Lift | Trails |
| 150″ | 755 | 14 | 102 |
LOCAL TIP: Most visitors begin their day on Tremblant's South Side. Instead, beeline to the North Side, where the snow is often lighter and drier. 
BEST VALUE: Begin skiing 45 minutes before the resort opens. Early access is free for guests staying at participating resort hotels; others may pay for the privilege. 
OFF-HILL RESTAURANT: For fine dining by candlelight, opt for Chef Sébastien Houle's internationally accented tasting menu at sEb L'artisan Culinaire in Mont-Tremblant.
Read about No. 3 in the East: Mad River Glen, Vt.

No. 1 in the East: Smugglers' Notch, Vt.
Tremblant's 2020 SKI Magazine Reader Resort Survey Rank: 1st in the East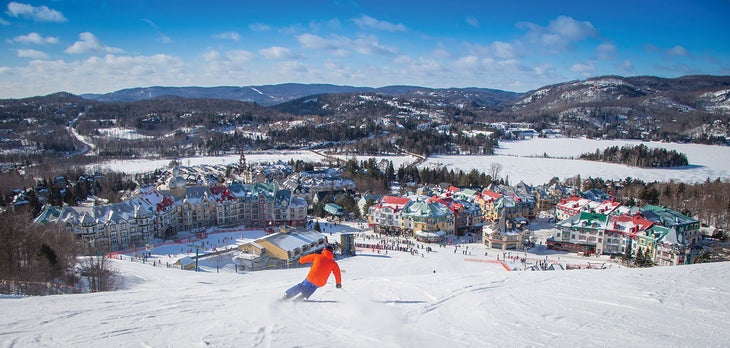 For a "European ski vacation without the hassle of traveling to Europe," say oui to Tremblant (No. 4 in Travel Ease). This candy-colored resort lures guests with a multi-faced mountain, ribboned with trails and seasoned with glades, rising above a lively pedestrian village with a welcoming disposition (No. 2 in both Family-Friendly and Local Flavor). 
It seduces them with French fare and Québécois flair (No. 4 in Charm), and keeps them returning with an extensive offering of weather-be-damned non skiing opportunities (No. 2 in Down Day Activities).  "Nothing in the East touches the greatness of Tremblant." Inviting shops, restaurants that earn the resort a No. 1 in Dining and offer everything from poutine to foie gras, and lodging (No. 1) varying from simple studios to posh hotels fill Tremblant's Disneyesque base village. "The ski-in/ski-out options have spoiled our whole family to the point that this is the only place we ski outside of where we live."  
Even non-skiers have plentiful options, including a casino, as well as "cross-country skiing, snowmobiling, ice climbing, tubing, horseback riding, ice skating, night skiing, and spa activities." Better still, this easy-to-access gem, located roughly two hours west of Montreal, keeps improving. True, it can be cold and windy—Hello! You're in Canada— but the "vast variety in slopes and outstanding grooming" make it worth braving the elements. Tremblant achieves the ideal blend of "great cold-weather skiing wrapped with a warm and charming town setting," and earns kudos for customer service and overall friendliness (No. 5 in Service).  
Taken as a whole, Tremblant shines: "Scenery, challenge, facilities, and local color and charm are not the absolute best in the world by themselves, but the combination of all make Tremblant one of the best resorts in the world." — Hilary Nangle 
WHAT'S NEW: What isn't? Snowmaking upgrades and two new grooming machines; phase two of renovations at Grand Manitou summit chalet are underway; food trucks offer new on-mountain eating options; renovations of Brind'O waterpark, formerly Aquaclub La Source, add four new slides; and last but not least, après-ski hotspot La Forge Bistro-Bar & Grill gets a facelift and much-appreciated expansion.
FAMILY EXPERIENCE: Ride a rollercoaster, drive a race car, or immerse in other interactive experiences at Tremblant Virtual Reality.
DOWN DAY ACTIVITY: Enjoy the interplay of hot and cold by alternating between the sauna, steam room, and outdoor hot baths with cold pools at Le Scandinave, a Nordic spa.
Read More
SKI Magazine's 2019 Review of Tremblant, Quebec
Always at the top of East Coast skiers' lists, Tremblant's winning formula comes from excelling at the basics. It continuously receives rave reviews for lodging, dining, après, and nightlife options. 
But what Tremblant is perhaps best known for is its charm and local flavor. The resort blends Old World European style with Disney-esque perfection to create a magical experience both on and off the mountain. The pedestrian village enchants guests with vibrant colors, outdoor fire pits, cobbled walkways and squares, and an open gondola linking one end to the other. The mountain rising above is etched with trails on four faces, and high-speed lifts provide express rides from the base to the top, which means skiing long runs and sustained pitches. 
Savvy locals advise starting on the North Side, while tree skiers favor The Edge and Sunny Side. Sure, the lines can be long, especially on weekends, and weather can be bone-chillingly cold, but consider either an excuse to explore the village, try your luck at the casino, immerse in the waterpark, or indulge your inner Canadian and say mais oui to crêpes, poutine, a microbrew, or a beaver tail. – Hilary Nangle
2019 Updates:
A high-speed quad replaces the North Side's Lowell Thomas triple; five new glades totaling 50 acres on the North Side and The Edge; and Le Grand Manitou and North Side lodge expansions.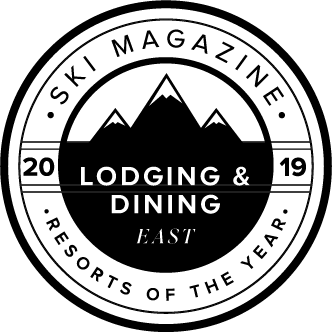 Come for the… 
APRÈS Beer aficionados should hit Le Diable, a microbrewery that brews craft beers on site. 
CHARM Take a spin on the village ice rink to feel like you're the star of a Norman Rockwell painting, French Canadian style. 
LOCAL FLAVOR Join a guided, three-mile, summit-to-base snowshoe tour through the woods, breaking en route at a cozy log cabin for a fondue feast.
FAMILY ACTIVITY La Source, the huge waterpark. And don't forget, Quebec school breaks are typically a couple weeks after American ones. Perfect. 
SIGNATURE EXPERIENCES Try your luck at the Casino de Mont Tremblant, in the heart Versant Soleil.
DINNER PICK So hard to choose, but the hottest tables are at Mille Pâtes (Italian/pastas), Seb Lartisan Culinaire (Quebecois/new Canadian), and La Savoie (fondue/raclette).
Read more:
Resorts of the Year 2019: Awards in the East
Resorts of the Year: New Hampshire / Maine / Québec
Resorts of the Year: East
Ikon Pass Resorts