Fountains and Mountains
Can one find the secret to longevity in Japan? Not sure, but you can find some amazing powder skiing.
Heading out the door? Read this article on the new Outside+ app available now on iOS devices for members! Download the app.
"Godfather of freeskiing" Mike Douglas had been feeling more like the grandfather of freeskiing. So last season, Douglas, still a pro skier at 47, headed to Japan in pursuit of a real-life fountain of youth. Traveling with photographer Bruno Long plus athletes Stan Rey and Alexi Godbout to film the Salomon TV episode of  "Fountain of Youth," Douglas ended up in Nagano's Shiga Kogen resort. The mission: Keep Douglas in the pro-skiing game as long as possible. Bonus: Land his signature DSpin—a backflip 720—which Douglas hadn't been able to do in five years.
While in Japan the crew plowed plentiful powder at Shiga Kogen, skied perfect glades, and enjoyed a huge spring storm that dumped several feet of snow on the resort. They soaked in onsens (Japanese hot springs) throughout the resort town of Shibu Onsen, where hundreds of hot springs from various sources and with different mineral and acid contents are said to heal whatever ails. They visited temples, uttering prayers to Buddha for long lives and bright futures. They rode the Shinkansen (bullet train) to Tokyo to meet with an anti-aging doctor. They ate miso and pickled vegetables. It was all good, but it was no fountain of youth.
So, with nothing left to do, they skied. In Hokkaido, they built a huge kicker, where, you guessed it, Douglas finally landed that D-Spin. "I felt 25 again," he says, "even if only for a few hours." Then it clicked. It's not what we eat, or if we exercise, or how we pray. It's setting goals, says Douglas, and achieving them. "The secret lives in all of us: Chase life. It might even help you live longer."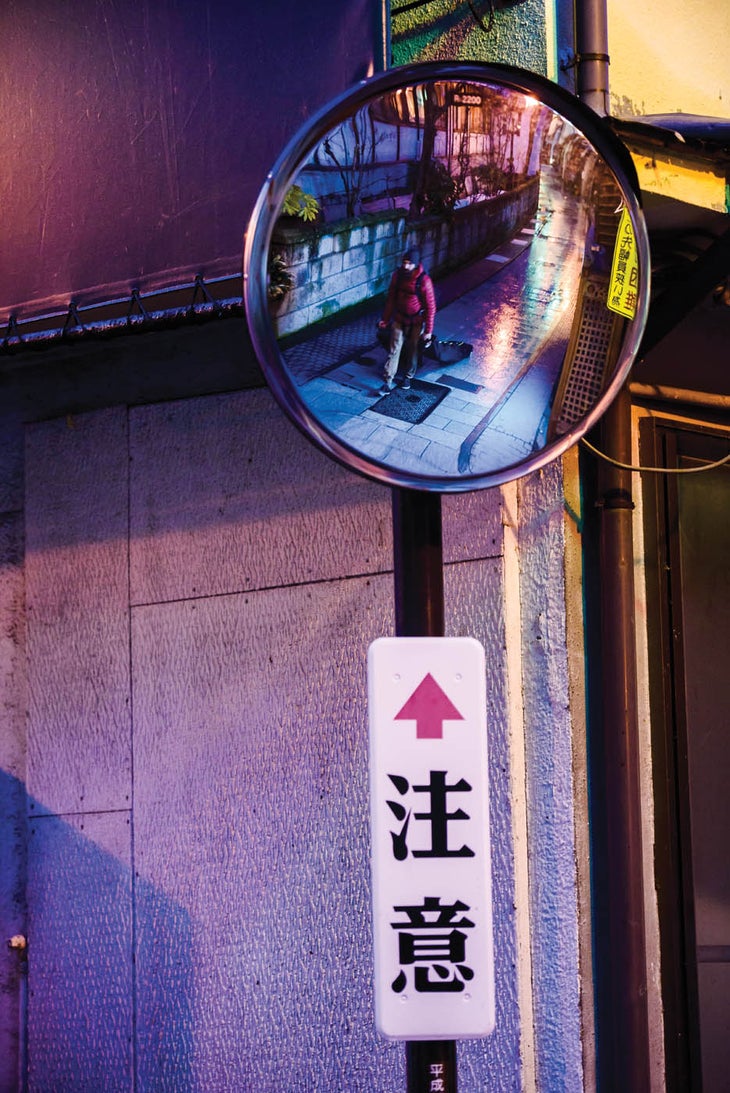 Shibu Onsen's super-narrow streets require mirrors so drivers can take turns riding through.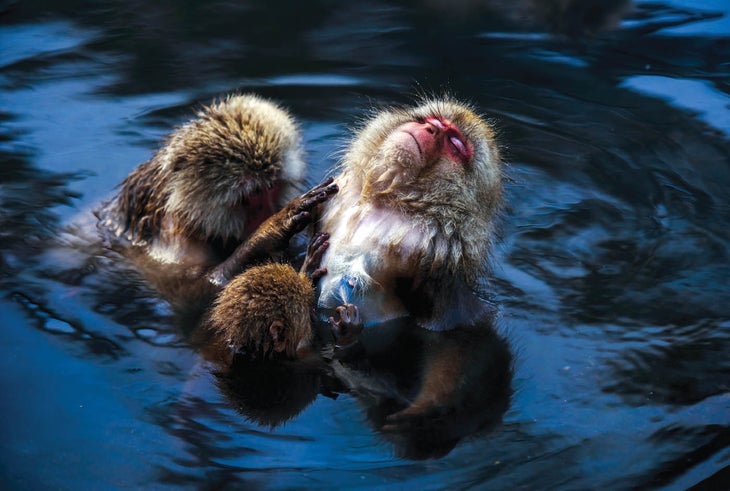 Snow monkeys run rampant at the onsens. "They just cruise around in the water all day," says Long.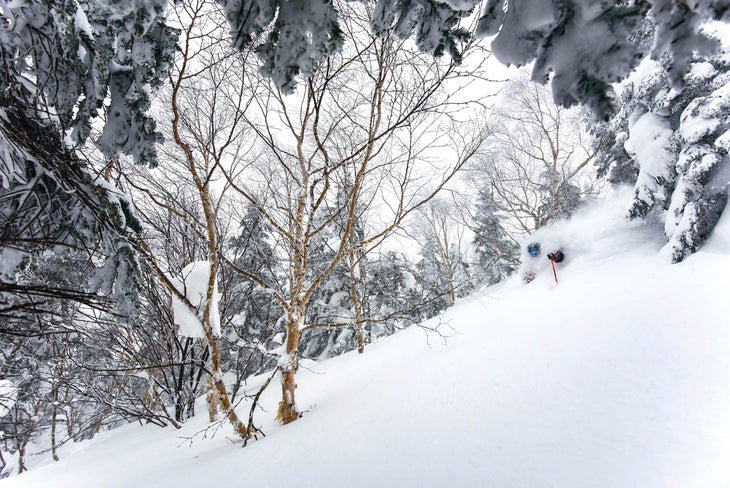 This was Long's first frame of the entire trip—Stan Rey buried in sweet, light Japow.
Alexi Godbout samples the powder in the glades around Shiga Kogen resort. Says photographer Bruno Long: "When the tree-skiing is good, there's no reason to do anything else."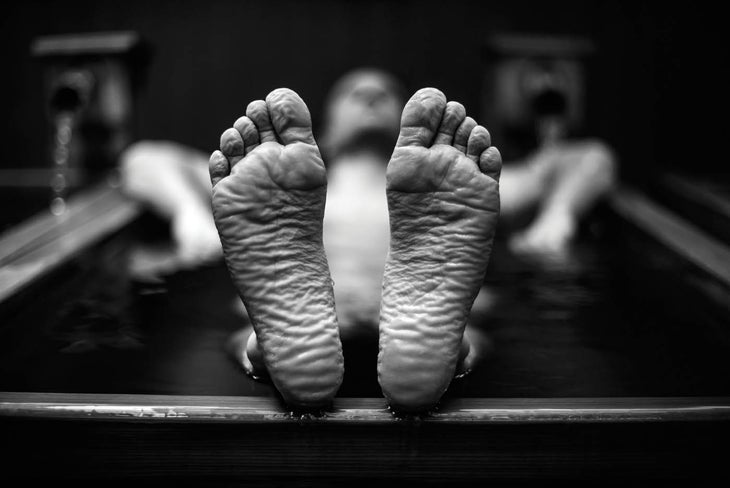 Hours of onsen-soaking lead to pruned-up feet.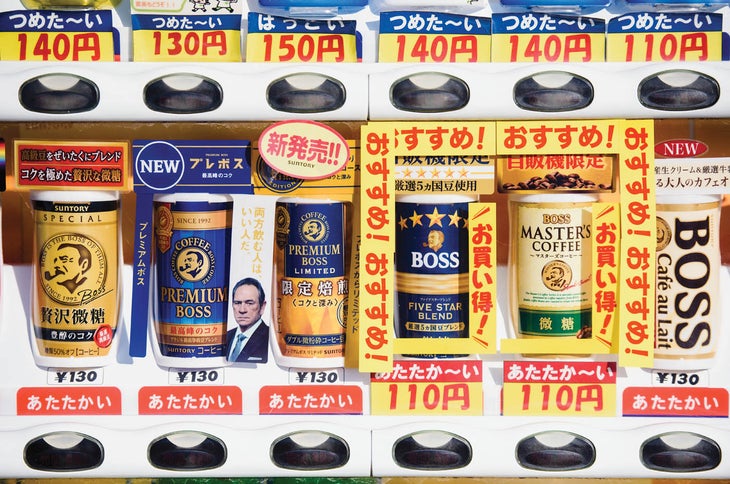 There's coffee in every vending machine, but only Premium Boss is endorsed by Tommy Lee Jones.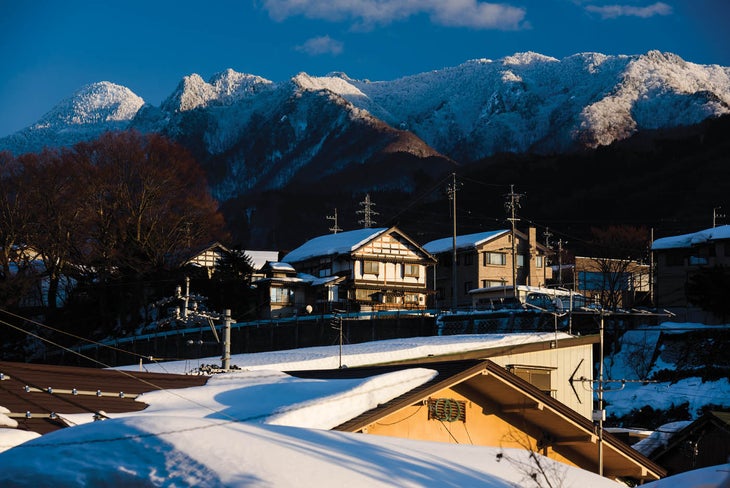 Shiga Kogen is made up of 21 small villages along a nine-mile stretch.
 PLAN THE TRIP
Getting There Nagano is a 90-minute ride on the bullet train from Tokyo; it's a quick and efficient way to the mountains. There's also a snow shuttle to Shiga Kogen from Narita airport.
Stay Shiga Kogen is a collection of 21 resorts spread over nine miles. Lodging options are plentiful. Try Shibu Onsen, a historic Japanese village lined with traditional ryokan (inns), where guests sleep on futons set on tatami mats. Most offer the option to include breakfast and dinner. 
Eat Do stop into an izakaya, a casual Japanese pub, for traditional food and drink. The Ichinose area of the resort is the liveliest. Otherwise, most dining and entertainment take place at the hotels. 
Info For more on any of the Nagano resorts, check out go-nagano.net.