Everything You Need to Know About the Indy Pass
The multi-resort season pass now offers skiers access to 72 independently owned ski resorts across North America and 4 in Japan.
Heading out the door? Read this article on the new Outside+ app available now on iOS devices for members! Download the app.
The Indy Pass, a multi-resort season pass offering skiers access to independently owned and operated ski areas across North America, was first introduced at the beginning of the 2019 ski season as a more affordable alternative to the Epic, Ikon, and Mountain Collective pass products.
Going into its third season in 2021-'22, the Indy Pass will offer pass holders access to 76 ski areas, blackout and non-blackout-date pass options, and deals to independent lodging properties for $279.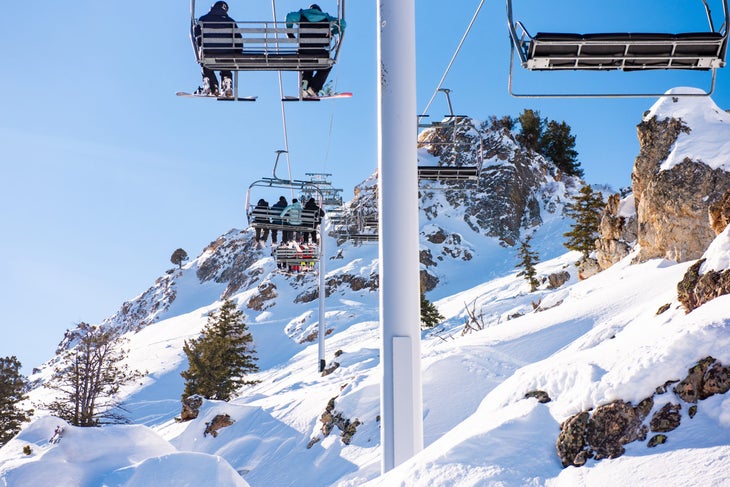 "We had a great first season generating nearly 9,000 skier visits and establishing the concept of a multi-mountain pass for the independent mountains," says Doug Fish, chairman of Fish Marketing Strategy, the Oregon-based advertising agency behind the Indy Pass.
This past season's sales, however, blew those numbers out of the water, with 96,000 Indy Pass skier visits. This is perhaps in part due to the pandemic and the desire to ski at smaller resorts where crowding wasn't likely to be as much of an issue.
For the 2021-'22 season, nine additional resorts join the Indy Pass:
Powder Mountain, Utah
Mt. Ashland, Ore.
Marmot Basin, Alb.
Snow Valley Mountain Resort, Calif.
Montage Mountain, Pa.
Titus Mountain, N.Y.
West Mountain, N.Y.
Eagle Point, Utah
Sundown Mountain, Iowa
Indy Pass also adds four Japanese resorts for the 2021-'22 season:
Okunakayama Kogen
Shimokura/Panorama
Related: Two More Idaho Ski Areas Join the Indy Pass

Brundage is one of five Idaho resorts on the Indy Pass. Road trip, anyone? Photo: Courtesy of Brundage
Related: This Vermont Indy Pass Resort is the East Coast's Adventure Mecca
In its inaugural season, Indy Pass holders gained access to two days of skiing at 45 independently owned and operated ski areas across the U.S. and Canada not included on any other multi-resort season pass. In this way, the Indy Pass not only offered an affordable multi-resort pass option to skiers who don't ski enough days in the season to warrant the more expensive season pass products on the market, but also a marketing solution for independent ski areas struggling to compete with resorts on the Epic and Ikon passes.
For the 2020-'21 season, the pass added seven more resorts, with another six signing on throughout the course of the winter.
Read more: The Rise of the Indy Resorts
"In our work and in our discussions with people in the industry, we identified a gap in the market," Fish explained when introducing the Indy Pass two seasons ago. "That gap exists for small resorts and consumers who aren't core skiers and who are getting squeezed by ever-increasing lift ticket prices."
Last season, the pass debuted an AddOn option, designed to bring core skiers and families into its fold by offering a less expensive pass to skiers who are current season pass holders at any Indy Pass partner resort. This year, the AddOn comes in a $189 blackout pass as well as a $289 AddOn with no blackouts.
One thing that is being retired for next season is the pandemic-inspired pass protection program that provided up to an 80-percent credit for the following season if skiers weren't able to take advantage of their 2020-'21 Indy Pass. For next season, Indy Pass holders who don't use their pass for any reason will get a 10-percent credit toward the following season.
Also Read: 7 Things to Consider When Choosing Your Next Season Pass
Section divider
Indy Pass Resorts at a Glance
West – 24 Ski Areas
Midwest – 17 Ski Areas
East – 25 Ski Areas
Section divider
Indy Pass Details and Price Information
Grants skiers two days at any of the 66 Indy Pass resorts throughout North America
Some resorts have blackout dates Dec. 26-Jan. 5 plus weekends and holidays Jan. 16-Feb. 15 (check Indy Pass website for final list of blackout dates in August)
Indy Pass (with Blackout Dates)
$279 for adults before Nov. 30; $119 for kids 12 and under
Indy Pass+ (No Blackouts)
$379 for adults; $189 for kids 12 and under
Indy AddOn (with Blackout Dates)
$189 for skiers (including kids) who hold a season pass at an Indy Pass partner resort
Indy+ AddOn (No Blackouts)
$289 for skiers (including kids) who hold a season pass at an Indy Pass partner resort
Section divider
Additional Indy Pass Benefits
Independent Lodging Partner Discounts
Indy Pass holders will receive at least a 10 percent discount on stays at independently-owned lodging properties that have partnered with the Indy Pass. Visit the new lodging section on the Indy Pass website for a full listing of participating lodging properties.
Learn more about the Indy Pass at indyskipass.com.