The Big Deal
Alterra shakes up the ski industry, bringing increased investment, more pass options, and a stronger stand on climate change.
Heading out the door? Read this article on the new Outside+ app available now on iOS devices for members! Download the app.
In early April of 2017, Aspen Skiing Company CEO Mike Kaplan told hundreds of employees gathered at an end-of-season party that big news was about to break that would begin an exciting new era for Aspen and the entire ski industry. Kaplan was sworn to secrecy and could say no more, but behind the scenes he and some of the ski industry's most powerful executives and wealthiest financiers were involved in a flurry of deal making that, within days of Kaplan's speech, would kick off a ski resort buying spree and result in a powerhouse new brand: Alterra Mountain Company.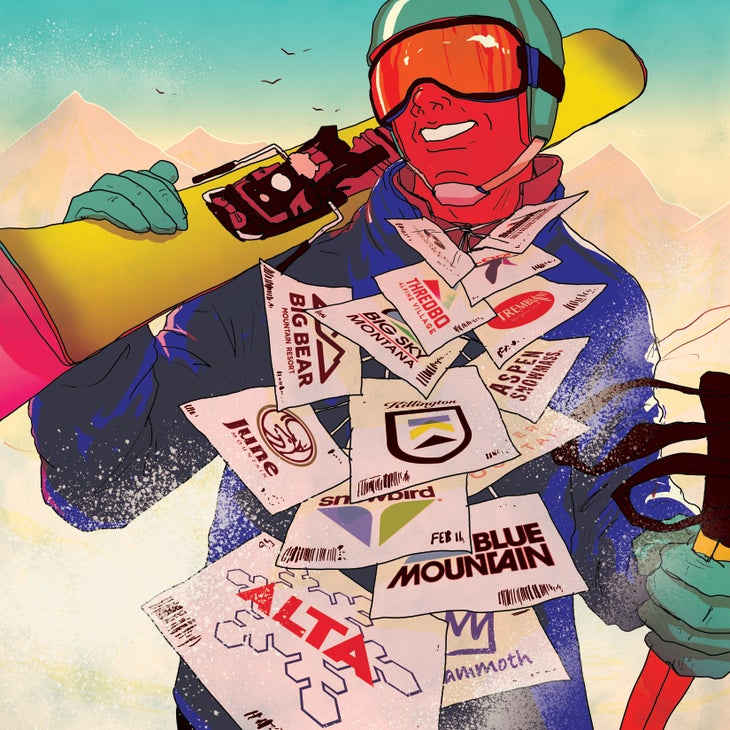 Created to compete with Vail Resorts and its Epic Pass, Alterra and its Ikon Pass represents the biggest ski industry shakeup in a decade, a colossus brand with more than 64,000 skiable acres, 24,000 employees, and 7.5 million skier visits across 29 mountain destinations. "It's a paradigm shifter," says industry analyst Dave Belin of snowsports market research consultant RRC Associates.
Within 14 months, Alterra grew from a fanciful idea into a 13-resort conglomerate that owns some of America's best-known mountains and offers pass privileges at 15 more iconic destinations. Rapidly executed, the idea to create a multi-resort company to challenge Vail Resorts and its dominance stretches back more than a decade. "It was a conversation that took place over many beers over many years," says Alterra CEO Rusty Gregory.
For skiers, Alterra's creation means increased investment in resort infrastructure—the company has promised to spend $555 million over five years on improvements, including $130 million this year—as well as new travel options enabled by the Ikon Pass. "This winter is going to be fun," says Kelly Landers of Steamboat, who along with her husband bought Ikon Passes for themselves and their two kids. "We're excited to check out Big Sky and Alta, and our daughter wants to ski the groomers at Deer Valley."
For skiers concerned about climate change, Alterra plans to be an industry leader. The company has partnered with Protect Our Winters (POW), the industry's leading voice for climate action, and will implement many environmental best-practices pioneered by eco-conscious Aspen Skiing Co. "Due to its size, Alterra can really bring the climate movement in the ski industry to scale," says Auden Schendler, VP of Sustainability for Aspen.
Ikon Pass buyers get a one-year membership in POW, which will share information and action alerts on climate science, policy, voter initiatives, and more during après-ski climate gatherings at Alterra resorts. "The Alterra partnership provides us with a huge new audience that can help unify the industry around the need for action and also educate and empower skiers and riders," says Mario Molina, executive director of POW.
Alterra's formal genesis began in the months and weeks before Kaplan's speech in early 2017, when KSL Capital Partners and the owners of Aspen Skiing Company, Henry Crown and Company, joined forces to buy Intrawest and its multiple resorts. Next, they bought Mammoth, followed by Deer Valley. By January 2018, when Alterra Mountain Company announced its name, it had amassed a portfolio of destinations from British Columbia to Maine, with resorts in five states and three Canadian provinces: Steamboat and Winter Park in Colorado; Squaw Valley-Alpine Meadows, Mammoth, June and Big Bear in California; Deer Valley in Utah; Stratton in Vermont and Snowshoe in West Virginia; Tremblant in Quebec and Blue Mountain in Ontario, plus B.C.'s CMH Heli-Skiing.
Read more: New Name Announced for KSL/Crown Family Partnership: Alterra Mountain Co.
The Ikon Pass added 14 more destinations: Aspen, Copper, and Eldora in Colorado; Jackson Hole in Wyoming; Big Sky in Montana; Killington and Sugarbush in Vermont; Sunday River and Sugarloaf in Maine; Loon Mountain in New Hampshire; Alta, Snowbird, and Solitude in Utah; plus, Lake Louise, Sunshine Village, and Mt. Norquay in Alberta and Revelstoke in B.C.; and Thredbo in Australia. 
After all the hype, this season will be a test run. "We are building the airplane as we're flying it," says Gregory.
Read more: Alterra Mountain Co. to Acquire Solitude Mountain Resort
That's just fine with Jeremiah Greco and his girlfriend, Ikon Pass buyers who've been busy scheming bucket list trips. "The dream for this season would be Salt Lake City to Bozeman to hit Snowbird, Jackson Hole, and Big Sky," says Greco, 36, of Williamstown, Mass., who also plans to ski closer to home at Ikon resorts Stratton, Killington, and Sugarbush. "With all these options, we won't get bored."
Since the original publication of this article, Alterra has purchased Solitude Mountain Resort in Utah and Crystal Mountain Resort, Wash., as well as partnered with Boyne Resorts for additional skiing for Ikon passholders at Boyne Mountain, Mich., Boyne Highlands, Mich., The Summit at Snoqualmie, Wash., Cypress Mountain, B.C., and Brighton Resort in Utah. The Ikon Pass has also added a partnership with Niseko United in Japan and Taos Ski Valley, N.M.
Originally published in the October 2018 issue of SKI Magazine.